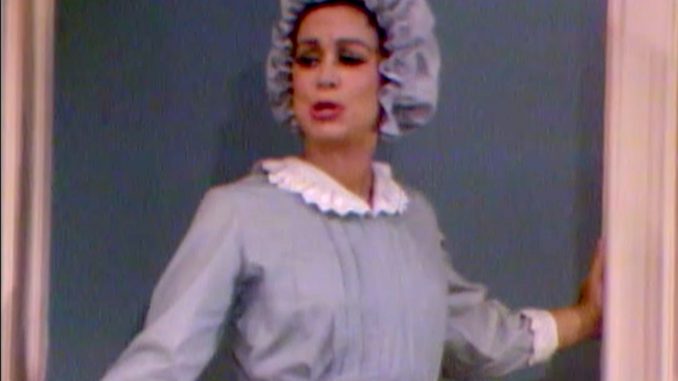 Who's Afraid of the Big Bad Wife? The Red Skelton Hour season 15, with Patrice Munsel -, originally aired October 5, 1965
In Who's Afraid of the Big Bad Wife, George Appleby (Red Skelton) accidentally gives his harsh wife Clara (Patrice Munsel) amnesia. And then takes advantage of the situation!
Monologue | Who's Afraid of the Big Bad Wife | Classic | On Stage | Silent Spot
Monologue
Gertrude and Heathcliffe: He says, "I'm going down to Cape Canaveral to become an astronaut." She says, "A Seagull be an astronaut?" He says, "Well certainly! Last week they sent up a cricket." She says, "A cricket?" "Yeah! Did you hear of Jimmy?" (Editor's note: Red's referencing the Gemini ("Jiminy") program – the first man in orbit)
Who's Afraid of the Big Bad Wife? Act I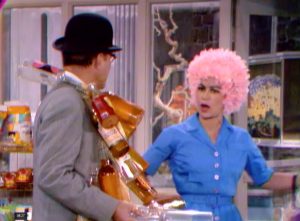 Who's Afraid of the Big Bad Wife begins with George and Clara Appleby going shopping. Clara does her "normal" physical abuse of George. Breaking bottles over his head, denting cans on his head — to save $0.05 a can! There's a funny bit of prop comedy, as George is holding a carton of eggs when a pretty young lady walks by.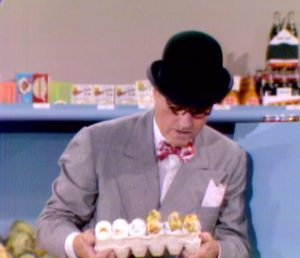 The eggs hatch! As George says, that's the first time I saw an incubator with a bare midriff. Towards the end of the act, George and Clara bend over to pick something up, and bump heads. And Clara gets amnesia! George decides to take advantage of the situation, telling her that she's his maid — Bridget!
Who's Afraid of the Big Bad Wife? Act II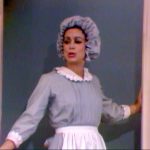 George is taking advantage of "Bridget". He's having his buddies over for poker every night, and they're making as large a mess as possible for "Bridget" to clean up. He's smoking in the house — making up for lost time. "Bridget" is sleeping in the driveway, etc. She's had a plumber come over to fix the sink, and he's interested in "Bridget".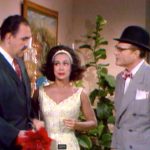 She goes to the beauty parlor, and George is stunned by her beauty! But "his maid" rebuffs his advances, and goes to the Plumber's Cotillion with the plumber! "You bent my hibiscus!" "You didn't do mine any favors either!"
Who's Afraid of the Big Bad Wife? Act III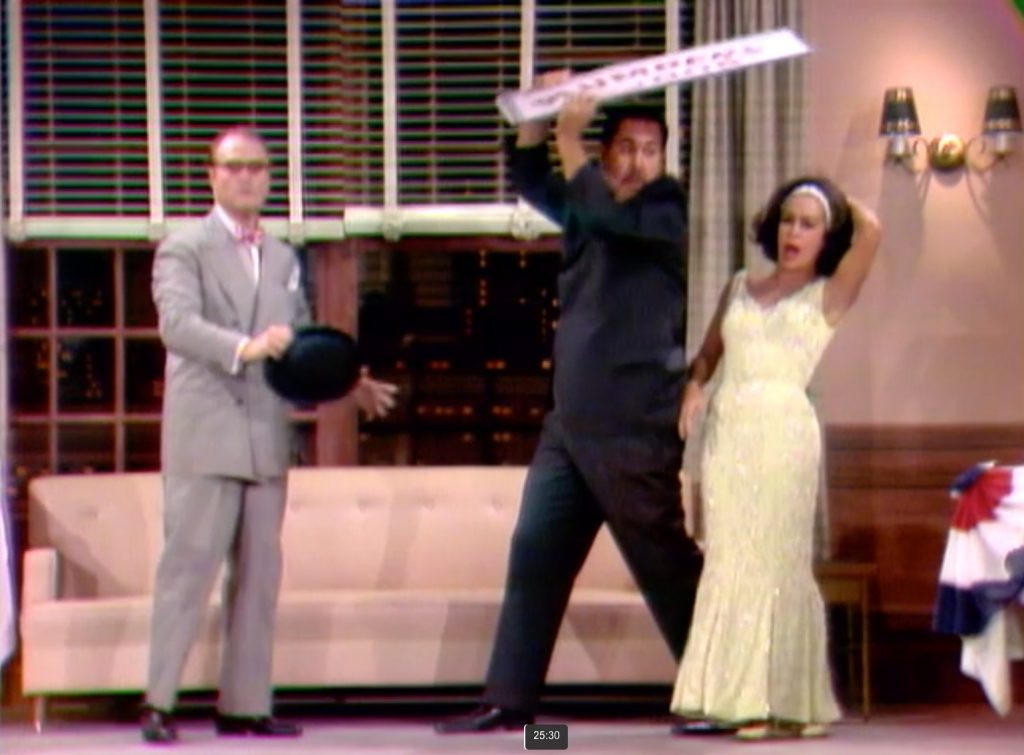 At the dance, the plumber is trying to get friendly with Clara/Bridget. George has followed them, to "rescue" her. George manages to not get beaten up and thrown out. He even manages to interrupt the plumber and "Bridget" from kissing. Soon, she's accidentally hit on the head, and cured of her amnesia! And then it's George's turn for amnesia!
Classic Red Skelton
On Stage
Patrice Munsel demonstrates her ability to sing at a range higher than the human ear can hear. For Red's stage manager, Rex. And Rex's dog, Willy.
Silent Spot
Red mimes a bachelor who lives with an ice-cream eating parrot in a very hot apartment.
Music
Peter and Gordon sing 'Don't Pity Me'; Patrice Munsel with Peter and Gordon sing 'You Don't Want My Love'; Patrice Munsel concludes with 'Summertime.'
Trivia
The title is from the song "Who's Afraid of the Big Bad Wolf" written by Frank Churchill and Ann Ronell for the 1933 Disney cartoon Three Little Pigs which became one of the most popular Disney songs.
Cast
Red Skelton … Self – Host / George Appleby
Peter Asher … Self – Guest Vocalist (as Peter & Gordon)
Irwin Charone (Cactus Flower) … Grocery Store Manager
Patrice Munsel … Clara Appleby
Cliff Osmond (The Apple Dumpling Gang Rides Again) … Plumber
Gordon Waller … Self – Guest Vocalist (as Peter & Gordon)