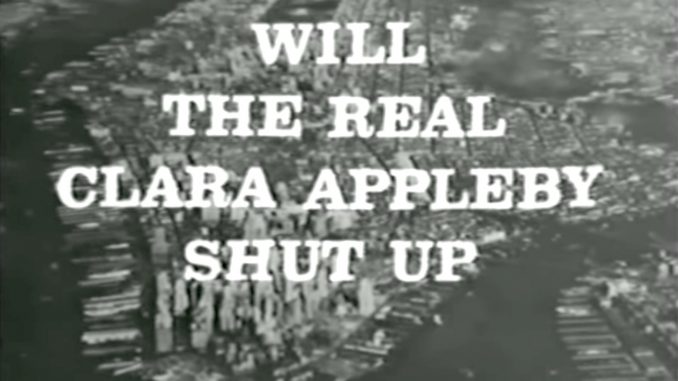 Will the Real Clara Appleby Shut Up? aka To Tell a Fib – The Red Skelton Hour, Season 13 Episode 14, with Jane Russell, Connie Haines, Beryl Davis
In Will the Real Clara Appleby Shut Up? three different contestants on the "To Tell a Fib" game show claim to be Mrs. George Appleby. And all three tell interlocking stories of when …
Monologue | Will the Real Clara Appleby Shut Up | Silent Spot | Songs | Cast | Funny quotes
Introduction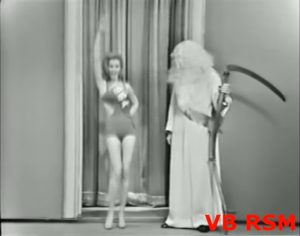 Red Skelton comes out, dressed as the outgoing year 1963. He's waiting to greet the new year, 1964. Out she comes – an attractive young woman in a swim suit. He turns to the audience and says, "I ain't going!"
Monologue
I'm a little tired tonight. Last night was the cat's night out, and I had to stay home and catch mice!
Red tells a variety of New Years Eve jokes.
Drinking
You know, I very seldom drink. I can't handle it, number one. The guy will come up, "Have a drink", I better not. "Come on, have one to be sociable." So, okay. A couple of minutes later a guy comes by and says, "Can I freshen that up for you?" I say, go ahead. The next thing I hear somebody say, "Did he have a hat?"
I got a little advice for you, see. If you're going to celebrate the New Years Eve, remember one thing: liquor and gasoline do not mix. Unless you run out of club soda ….
Dean Martin
Hey, you know Dean Martin has a great rule about driving on New Years Eve. He says, be very careful when you're driving around sharp curves. Take no chances, keep both hands on your martini.
And he has a wonderful toast that he gives at parties. Old Dean, he gets up and he says, "Make my martinis dry, make my women sweet, make my beef steak rare, and make my bourbon neat. Make my stogies long, make my trouble short, make each night longer, and make each pint a quart."
Red ends with a pantomime of a drunk walking on New Years Eve.
Will the Real Clara Appleby Shut Up
On the "To Tell a Fib" game show, three different beautiful women all claim to be Clara Appleby.
Clara Appleby II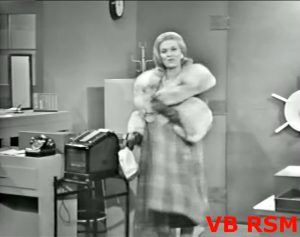 Beryl Davis, as contestant number two, tells how her husband George works at the Fourth National Bank. Having been fired from the First, Second, and Third! In fact, on the outside of the bank, they list their assets. The only liability listed: George Appleby!
After some prop comedy with stacks of silver dollars, Clara comes to visit. So, George decides to hide from her. He hasn't had lunch yet, and can't face her on an empty stomach! She knows where he's hiding, and pretends to see a nudist coming into the bank – "Now, I've seen everything." George pops his head up from beneath the counter in a moment of prop comedy. Why has Clara come? George left the lunch she packed for him at home. "I thought I'd thrown that in the garbage disposal." She wants $50 to buy a crazy quilt. He gives her $10, "make it a silly one."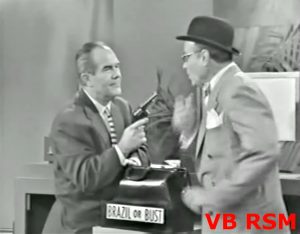 Later on, George is reminded that the bank vault closes at 4:00. "Remember that last year we had some idiot who spent New Year's weekend in there." "Oh yeah, what a dope. I wouldn't want to go through that again! The old year and I passed out together." After some prop comedy with George nearly getting locked into the vault again, complete with a prosthetic nose, one of his coworkers is preparing to embezzle $25,000! Including a classic clown bit where he's holding a gun on George, and asks George to hold it for him when he answers the phone! The good news is, he's inherited a fortune, and no longer needs to run off with he bank's money. But that means that George is now responsible for the $25,000 and can't return it to the bank until Monday morning!
Clara Appleby I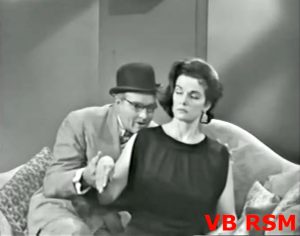 Back at the "To Tell a Fib" show, Clara Appleby I, played by Jane Russell, picks up the story. George has the stolen money, which he needs to conceal until he can return it Monday morning. So he hides it on the couch, behind some cushions. Clara, unaware, complains how lumpy the couch is. George tries rubbing her back, etc. but she only gets more suspicious.
He tries to get her to dance with him, but she gets more suspicious …. Since there's no music! She wants to redecorate, but George of course insists that they can't afford it. He tries to distract her by pretending there's someone at the door, so he can hide the money elsewhere. "I didn't hear anyone at the door." "They're probably wearing gloves." He tries hiding the money on top of a cabinet, but it falls down and hits him on the head, knocking him down! "That's what you get for letting money go to your head!" George passes out, and Clara finds the money …. Money that she can use to redecorate!
Clara Appleby III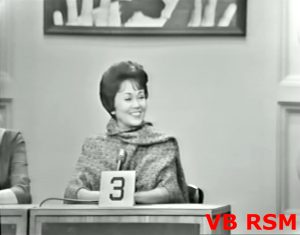 The third Clara Appleby, Connie Haines, picks up the story. She's spent the money! "I redecorated our house in early expensive." George, of course, knows that the money belongs to the bank, and it has to be returned. He orders various people that are delivering expensive furnishings to return it. But, Clara's throwing a party …. And she's invited George's boss from the bank! "You live pretty high on the hog." "I beg your pardon, Mr. Boxer! I don't come over to your house and insult your wife!"
Back at the "To Tell a Fib" game show, Clara Appleby I reveals what happened. George returned everything, and put the money back in the bank before anyone knew it was missing. "But that's George. Honest, sincere, stupid." Finally, it's time to reveal who is the real Mrs. Appleby. And …. All three women stand up! The host decides the only way to decide is to have George Appleby come out and identify the real Clara Appleby. So George comes out …. And he's married to all three women?!? As the wives beat him up, what's his explanation? "It's the only way to catch up to Mickey Rooney …. Three at a time!" ending the sketch.
The Silent Spot – Happy New Year
The Silent Spot is a comedy of errors, as Red and his pretty wife are planning to go out for New Years Eve. Red waits impatiently as his wife gets ready, and decides to make a drink. Which turns into a slapstick prop comedy duel with the equipment — and Red loses. He puts his soaked coat into the oven, and it shrinks to a child's size. He burns his pants, when an inebriated person comes to the door to wish him a happy New Year, etc. It ends with Red getting a ticket, his wife getting angry at him …. Only to reconcile when they hear the new year being rung in.
Songs
Cast of characters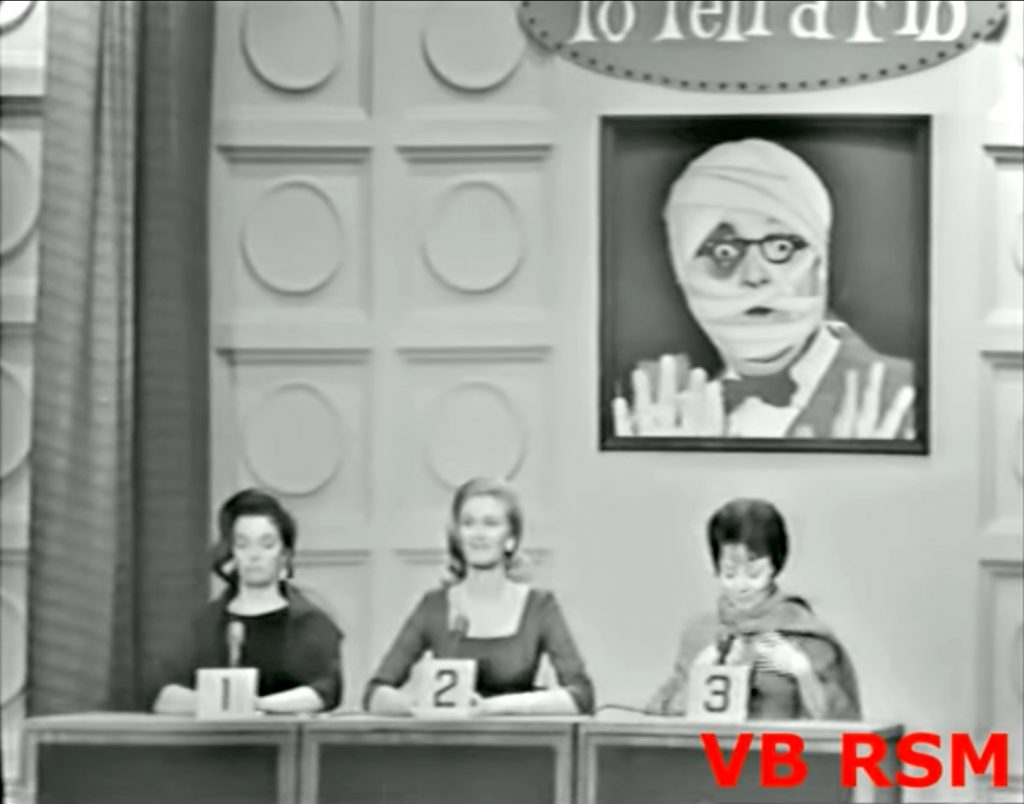 Red Skelton … Self – Host / George Appleby
David Rose and His Orchestra … Themselves
Beryl Davis … Clara Appleby I
Art Gilmore … Announcer
Connie Haines (Duchess of Idaho) … Clara Appleby II
Jane Russell (Double Dynamite) … Clara Appleby III
Funny Quotes
George Appleby (Red Skelton): [about her husband George] He was as jumpy as a caterpillar with athlete's foot
Clara Appleby (Jane Russell): George, what are you doing home so early? I haven't had a chance to burn your dinner.
George Appleby (Red Skelton): I'm tired, Clara. I tell you, that traffic on the freeway is murder! Especially when you don't have a car.
Clara Appleby (Jane Russell):George, we can't dance. Where's the music?
George Appleby (Red Skelton): Right here in my heart, sweetie pie.
Clara Appleby (Jane Russell): [puts her ear to his chest, listens] How can you dance to a slow leak?