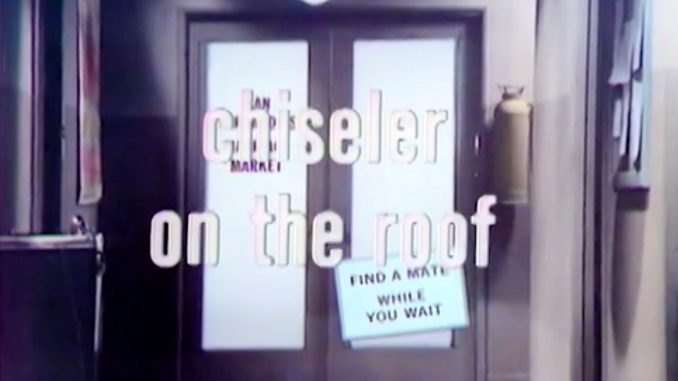 Chiseler on the Roof – The Red Skelton Show, season 16, with Jackie Coogan, originally aired September 27, 1966
In Chiseler on the Roof, San Fernando Red is running a sham marriage agency. Until a rich young woman wants to marry an older man, and is willing to pay $1,000 dollars!
Monologue | Chiseler on the Roof | Classic Red Skelton | On Stage | Silent Spot | Cast | Music
Monologue
I just got my draft notice. I'm classified 4GH. That means means I go right after George Hamilton. And he don't go until after Lady Bird!
I just had a little bite to eat out at the CBS lunch wagon, you know. I like to go where the crowd goes, and 50,000 flies can't be wrong.
But I think I got a splinter in my teeth; of course, that's what I get for eating fancy. I ordered a club sandwich!
The Beatles
Did you read about The Beatles at the Dodgers stadium? 40,000 people showed up to that thing, I was one of them. Yelling, and screaming, and weeping, and nudging. I said to the fella next to me, Did you ever see such a thing as this? He says, "I certainly have. I'm an income tax collector."
I heard two moths talking to each other: "If the dresses get any shorter, we're gonna have to learn to eat meat".
Gertrude and Heathcliffe
Gertrude and Heathcliffe, the two seagulls. He says, "Well, sir, I'm gonna fly to Washington D.C. and take out a a little singing group. I'm gonna call it the LBJ's." She says, "The LBJ's?" He says, "Yeah – music for the birds."
Back to school
Did you notice how peaceful it's getting at this time of the year? You know, the children are going back to school, and the mothers are going back to bed.
I asked one lady, I said, How do you feel about your children being home all summer? She said, "I tell you, I feel like Mickey Rooney standing in a wading pool – I've had it up to here!"
Little boy
Red tells of having a neighbor boy over for dinner: "He's sitting there eating, and I says, Want me to cut your meat? And he says, No, no, we've had it this tough at our house."
He said, "I'll be glad when I can go to school, boy. I wanna go to school and learn about the Queen of England. She must be awful sad, 'cause everybody's sayin' "God save the queen" all the time …
Last summer he had a kitten, before they left for Palm Springs. When they came back I asked, Where's your kitten? "I don't have him any more." I says, Oh, did you get rid of him? He says, "No, no." I says, Well, did he get run over? "No, no." Did he die? "No." What happened to him? "He grew into a cat!"
Education
You know, they're teaching kids how to dance in school now. One kid was dancing like this [hopping left and right] and the teacher asks, "Is that the Watusi?" "No, it's the wait-too-longsy!"
One day I'm going back to school, to pick up where I left off. Of course, I'll look pretty silly in Kindergarten!
Education was important to my family. My father was a college man, you know. He went to state pen man … Penn State!
Chiseler on the Roof
Act I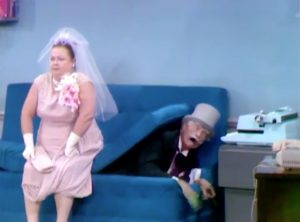 Chiseler on the Roof begins with the crooked San Fernando Red running a sham marriage bureau …. And running away from a dissatisfied customer! She breaks the door down, and sits on the couch where San Fernando Red is hiding. It's a very funny bit, as he spends several moments typing a note on the nearby typewriter — "Help!" After she finds him, and he fixes his back, he tries to satisfy her. His marriage computer looks — and acts — more like a slot machine. After feeding it coin change, he pulls the lever, and out pops a weakling, prospective husband. They leave, and a new, prospective customer comes in.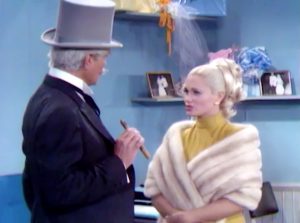 It's the lovely Needa Hubby (Nancy Ames). She's looking for a husband …. Preferably, an older man. Since that's apparently all the rage at the time. And San Fernando Red is technically an older man …. But he's not interested in marriage. But he is interested in the 1,000 dollars that she's offering if he can find her an older husband! As San Fernando might say, where there's a bill, there's a way! So that leads into …
Act II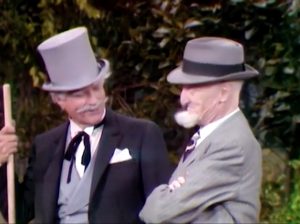 San Fernando Red goes to a nearby park, where he's hunting old men …. With a giant butterfly net! He catches an elderly man (Burt Mustin), but there's one problem. He's already gotten married a year ago! On cue, his lovely young bride comes on stage, pushing a baby carriage! As San Fernando Red says …. "You dirty old man!"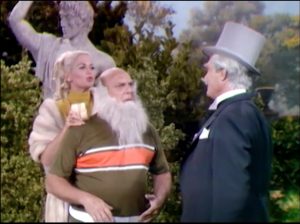 Well, if San Fernando Red can't find an eligible old man …. He'll make one! You've heard of the Fountain of Youth? In the park, he creates a "Fountain of Oldth". San Fernando Red pours an alcoholic concoction into a nearby fountain, and then grabs a nearby young hippie …. Sidney Sideburn (Jackie Coogan) who, after drinking, loses his hair and feels old! And San Fernando Red passes him off of the man of her dreams to Needa Hubby. But, she pulls out a massive roll of bills to pay him with.
San Fernando Red: With all that money, you can afford to live in Beverly Hills!
Needa Hubby: Live in it? I own Beverly Hills!
And, the greedy San Fernando Red decides to romance her himself — having fallen in love with her money! This takes us to …
Act III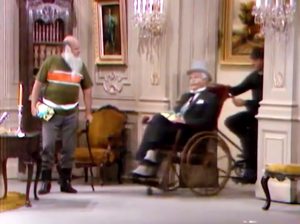 At Needa Hubby's mansion, San Fernando enters in a wheelchair, trying to establish his credentials as an elderly suitor. Sidney Sideburn doesn't give up easily, but neither does San Fernando Red. San Fernando tries to sabotage Sidney's box of chocolates, but Sidney turns the table on him. After some funny back and forth between the two, Sidney kisses her — accidentally transferring his fake beard to Needa!
With Sidney's exit, it seems like San Fernando Red is going to be triumphant. But, it turns out that Needa Hubby wants to be loved for herself, and not her money. So, she's given away her entire fortune! To a home for homeless cats! At that announcement, all of the men in the skit enter, meowing as though they were cats, ending the skit.
Classic Red Skelton – Pedestrian Polo
This episode's classic sketch is one of the funniest — Clem Kadiddlehopper explaining the rules for "pedestrian polo".
On Stage
Jackie Coogan and Red Skelton are on stage, where Jackie bets Red $10.00 that he can't solve a riddle — "Not my sister, not my brother, child of my father and mother – who am I?" Red loses the bet, and then tries it on Nancy Ames …. Getting it hilariously wrong!
Silent Spot – The Referee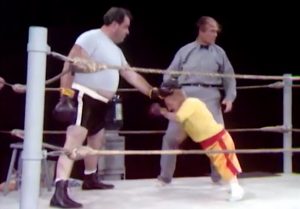 The Referee is a very funny sketch. Red Skelton appears as a boxing referee, where mobsters want their boxer to win. Billy Barty, of course! It's a very funny skit, as both boxers cheat by hiding a horseshoe in their boxing glove. It gives Red the opportunity to do some classic clown boxing comedy, such as having the boxers demonstrate (on Red) the things they're not allowed to do!
Cast
Red Skelton … Self – Host / San Fernando Red / Gertrude and Heathcliffe / Boxing Referee-Silent Spot
The Alan Copeland Singers … Themselves
Nancy Ames … Needa Hubby
Billy Barty (Willow, UHF) … I Don't Care – Boxer — Silent Spot
Patrick Campbell … Prospective Groom / Ringside Hood — Silent Spot
Jackie Coogan (The Addams Family, The Kid) … Sidney Sideburn
David Rose and His Orchestra … Themselves
Mary Foran … Chubby Bride-to-Be
Race Gentry … Prospective Groom / Corner Man — Silent Spot
Art Gilmore … Self – Announcer (voice)
Bern Hoffman (Li'l Abner) … Jimmy Crack Corn – Boxer — Silent Spot
Burt Mustin (The Andy Griffith Show) … Old Man in Park
Patty Regan … Ruby — San Fernando's Secretary
Tom Hansen Dancers … Themselves
Glen Vernon (Bedlam) … Corner Man — Silent Spot
Music
Nancy Ames sang 'Michelle' and 'Eso Beso.'