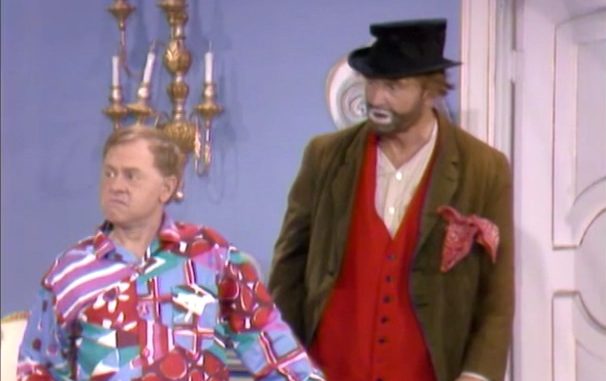 Loafer Come Back to Me, with Mickey Rooney – The Red Skelton Hour, season 15, originally aired September 28, 1965
In Loafer Come Back to Me, Freddie the Freeloader's hobo pal Mugsy (Mickey Rooney) becomes a success in Hollywood! Will he forget his old pal?
Monologue | Loafer Come Back to Me | Classic | On Stage | Silent Spot
Monologue
Gertrude and Heathcliffe, the two seagulls. She says, "Did you hear what happened to Polly the parrot? She's going to marry a duck." "She's gonna marry a duck? What on Earth would a parrot want with a duck?" She says, "I don't know. Maybe Polly wants a quacker."
Water shortage back East
A guy heard that I had water on the knee, and three guys from New York gave me an offer.
I saw one guy out licking his lawn.
The reservoirs have so little water, they look like Dean Martin' stomach!
Politics
Did you hear the one about the little man from space? He comes down in his space ship, see, he landed right in the middle of the President's press conference down in Texas, see. LBJ is standing there on a little platform, he's completely surrounded by reporters, television cameras, secret police and secret service men, Army officers, diplomats, all government officials. They're hanging on every word he has to say. Little green man walks up to the President and says, "Take me to your leader". Lindon says, "Boy, you Martians really know how to hurt a fellow."
Wouldn't it be something if there really were Martians? Think of all the new places that Bobby Kennedy could run for office!
Speaking of politicians, there was one flying around the country doing campaign work, see. And he got in one of these big hurricanes, "How about that? Senator Dirksen's started another filibuster."
Hurricanes
Hurricanes always start in September, you notice that? You know why that is? 30 million people sending their kids back to school and going, "Whew!"
Did you notice they name those hurricanes after women, like Hurricane Hazel, Hurricane Betsy …. You know why they do that, don't you? They go sixty miles and hour and knock over telephone poles, and when they turn they don't make a signal.
A friend of mine in Florida used to have a thirty two room mansion, before the hurricane. And after it hit, now a one-room trailer.
Trailer homes
Did you ever notice how they describe trailer homes? They never say they're small, they're "compact". So "compact" that if you drop your toupee, you have wall-to-wall carpeting!
Riffing on Medicare, Red does a pantomime about an elderly person who has over thirty pairs of dentures — since they're "free".
Loafer Come Back to Me Act I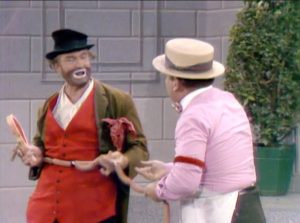 Loafer Come Back to Me begins with Freddie the Freeloader on the "lamb" with a stolen lamb chop. The pursuing butcher lassoes Freddie with a lasso made of sausages, and reels him in. He explains that, if Freddie wanted the lamb chops, all he had to do was ask for them. Freddie does so, and the butcher beats him up with the prop lamb chop! Freddie: "I'll never say that again!" Butcher: "Say what again?" Freddie: "Give it to me!" And so the butcher beats him again.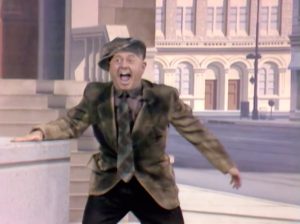 After, Freddie tries to take a nap on some steps, where he's mistaken for being with a group of hippies protesting … everything. Soon after, a cop is about to arrest him, when Freddie calls for his pal, Mugsy (Mickey Rooney)! After a series of puns from Mugsy, the cop lets him go …. And mentions that he should be ought to be in Hollywood.
Loafer Come Back to Me Act II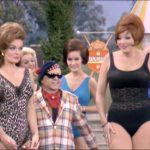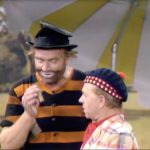 Without explanation, Mugsy has become a major star in Hollywood. He lives at an opulate mansion, surrounded by beautiful girls and his staff. And Freddie the Freeloader arrives to crash Mugsy's pool party! "We had poverty before the government made a living out of it." Mugsy's PR man thinks that he can use Freddie to give Mugsy a new image. So, Freddie stays!
Loafer Come Back to Me Act III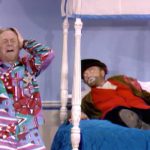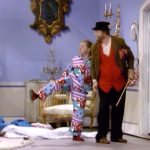 Freddie the Freeloader snores ceaselessly — poor Mugsy hasn't had a night's sleep in three weeks. Mugsy goes to throw Freddie out … But photographers arrive to take publicity photos of Mugsy being kind to this hobo. Once they're gone, so's Freddie! This becomes a recurring bit. Eventually, Mugsy's caught throwing Freddie out, which destroys his image. So, back to the dump for them both. Hitchhiking a ride on a passing jet, courtesy of Freddie's snoring!
Classic Red Skelton Sketch
Cauliflower McPugg
From the first season ("Smokeless Sunday"), Cauliflower McPugg has a "million dollar idea" that involves a human fly …
The American Dance
Also from the same, a hilarious ode to American dance, with Mara Lynn.
On Stage
Red Skelton and Mickey Rooney recreate "the hat sketch" that Red allegedly did with Mickey's father in vaudeville. It's a funny routine, with Red using three hats to "prove" that 3 time 3 is 10.
Silent Spot – the fickle rooster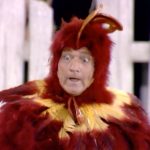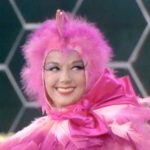 In the Silent Spot, Red impersonates a rooster, with Chanin Hale as his favorite hen. They get married! They're expecting their first egg! Rooster Red has to bring dill pickles and ice cream …. But then fouls it up by reading "Playrooster" …
Trivia
Musical highlights are provided by the U.S. Marine Drum and Bugle Team of the Pacific, which mixes marches and jazz.
The title is a variation on the song, "Lover, Come Back to Me".
Cast
Red Skelton … Self – Host / Freddie the Freeloader
Robert Foulk … Policeman
Chanin Hale … Hen / Silent Spot
The Marine Pacific Drum and Bugle Corps … Themselves
Louis Quinn … Muggy's agent
Mickey Rooney … Muggsy
Gilchrist Stuart … Butler