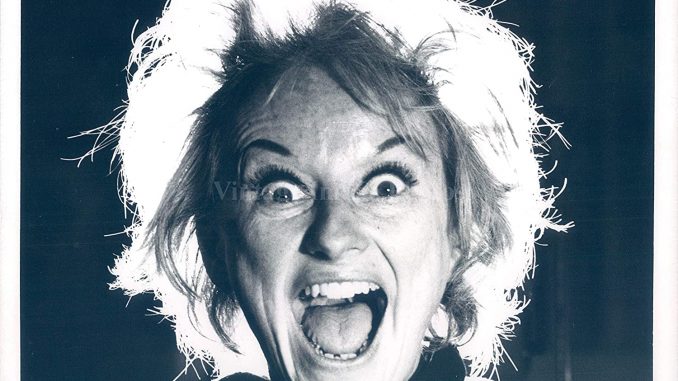 Love at First Fright, with Phyllis Diller, The Red Skelton Show, season 15, originally aired March 22, 1966
In Love at First Fright, George Appleby thinks back on how he first met his future wife Clara (Phyllis Diller) back in college!
Monologue | Love at First Fright | Classic Sketch | On Stage | Songs | Silent Spot
Monologue
Why don't you do what I do when I have a cold? I go home, my wife gives me a hot toddy, a hot bath, gives me a hot dinner, puts me to bed, the next morning I feel great. Why don't you try that? Because whenever I go over to your house, she's not there!
I thought this would be my lucky year. It's the Chinese year of the horse. Looks like it'll be the year of the jackass as well!
When I go to the race track, they call me Gomer. I always lose a pile!
I had my sister in law at the track, a drunken jockey put a saddle on her! Don't laugh, she came in first!
This one horse I bet on, he would have won except he kept looking behind to see if his plow was on straight.
Horse names: slow start = government worker
Pantomime on an actor going to the race track, where he loses all of his money. So the now-broke actor's trying to sneak his trunk up to his friend's third-floor apartment without the landlady seeing him.
Love at First Fright, Act I
George's friends at a poker game, reminiscing about how George Appleby first met Clara back in college in the 1920's. Fraternity: Phi Sigma Flunk-Out. Pledge Appleby – bring in the home made gin! George pushes in a bathtub, spills it. "Bottoms up" – spanked with a paddle. Dean's coming. George spits gin on the Dean (Barbara Morrison). Dean spanks him with the paddle. Dean: "Hold your tongue!" George: "That's not where it hurts!" Dean's going to expel the entire fraternity … unless one of them will take her daughter, Clara (Phyllis Diller), to the prom. Clara: "Oh, what a pretty bird!" – bird dies. Dean: "Her face grows on people." Clara: "Why did it have to grow on me?" George: "I like it when you laugh – it's like a short cow going over a tall picket fence."
Love at First Fright, Act II
At Sadie's Shady Roadhouse. The plan is for George to take a photo of Clara in a compromising position, and blackmail the Dean into not shutting down the fraternity. George: "This is out of bounds for the vice squad!" Clara: "I'm with George Appleby – he has all the charm of a temporary filling." George: "You're a sight for sore eyes." Clara: "I didn't know you had sore eyes." George: "I didn't until I looked at you." Clara drinks an entire bottle of hooch. Clara: "I feel so high I could bite myself on the forehead!" George: "How?" Clara: "Standing on a chair, silly!" Clara climbs under a table. Clara's mother walks in. Dean: "George Appleby, you've embarrassed my daughter. You'll have to marry her!"
Love at First Fright, Act III
George and Clara at the beach, getting into a boat. Clara: "I can't swim." George gets an evil idea … Clara: "Did you hear about the Eskimo farmer who drowned when he tried to milk a whale?" Then, George subtly tries to get rid of her … Clara: "Why does this life preserver have an anchor attached to it?" Clara: "Just for that, I'm going to marry you and make you miserable for the next 100 years!" George: "I'll show you! I won't live 100 years." Clara: "It'll feel like 100 years!"
Classic Red Skelton Sketch
Rock-a-bye Baby – a scene in the American home, the way it should be. Fighting over who holds the baby. Followed by how it really is. Turns into a Tide commercial.
Red acts out a few embarrassing moments with Lucille Knoch. A shy man asking for a kiss on a date, a not-shy sailor, and a couple from L.A.
Red Skelton & Phyllis Diller on stage
Red Skelton: You have acute indigestion?
Phyllis Diller: You say that to all the girls!
Red Skelton: Were the oysters fresh?
Phyllis Diller: They didn't say anything to me!
Red Skelton: how did they look when you opened the shell?
Phyllis Diller: Open the shells?!?
Then, Phyllis bets Red that she can answer her question, but he can't answer his.:
Phyllis Diller: How does a rabbit dig a hole, but not leave any dirt around it?
Red Skelton: That's your question, you answer it.
Phyllis Diller: He starts at the bottom.
Red Skelton: How did he get to the bottom?
Phyllis Diller: That's your question, you answer it!
Songs
Musical guests the Rockin' Berries sing 'Poor Man's Son' and 'You're My Girl.'
The Silent Spot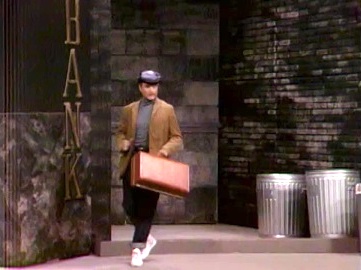 In the Silent Spot, Red portrays a nervous bank robber, about to rob his first bank.. After a series of embarrassing mix-ups with a fat lady outside the bank (Barbara Morrison), Red tries writing the stick up note. The janitor unintentionally empties the trash — containing Red's gun. He goes out to retrieve it fromt he trash can, shoots himself in the backside. Back inside, the teller's close the line one at a time. But the person ahead of him in line robs the bank first!
Trivia
The title comes from the expression: Love at first sight.