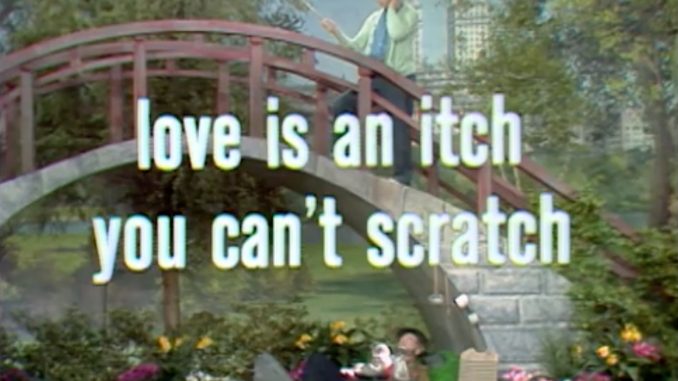 Love Is an Itch You Can't Scratch, The Red Skelton Hour season 17, originally aired February 6, 1968
Monologue | Act I | Act II | One Minute Dramas | The Silent Spot | Cast | Songs
Monologue
I just met the most conceited actor in the world! He asked Elizabeth Taylor to marry him … And he sent the telegram collect!
Love Is an Itch You Can't Scratch Act I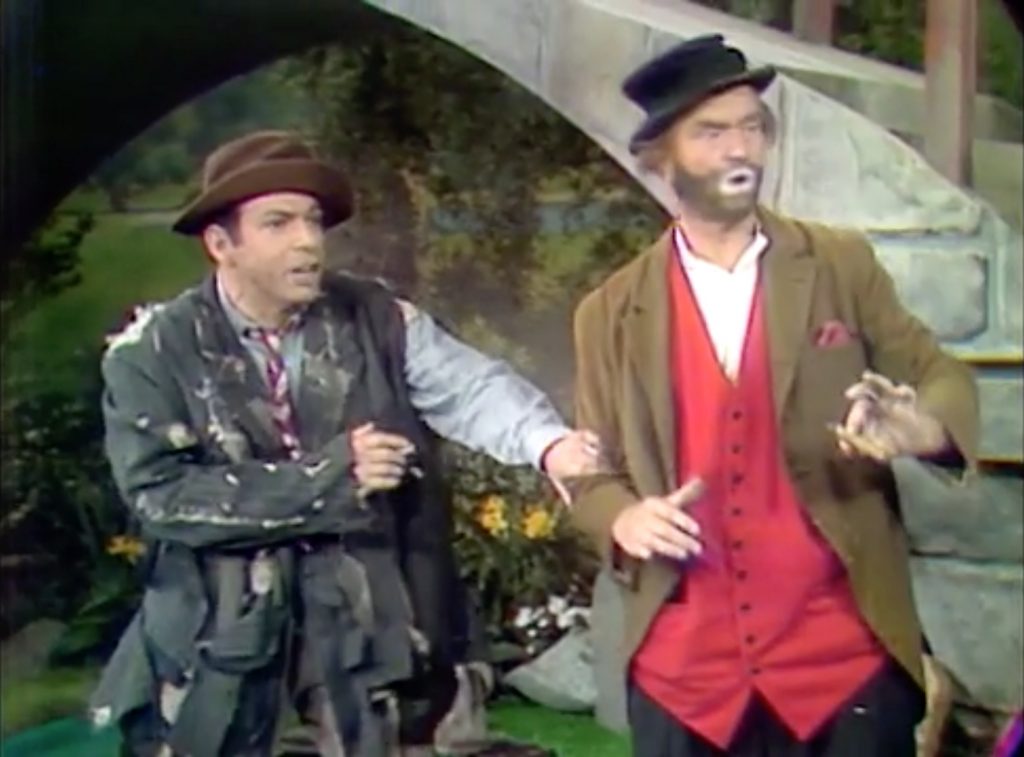 Love is an Itch You Can't Scratch begins with Freddie the Freeloader in a park, intercepting a fisherman's catch for his supper. It's a funny bit, and more so when his old pal Mugsy comes by. But, Mugsy has a problem. His daughter (Diane Linkletter) has fallen in love with a young man, and they want to get married. But he's ashamed to let his future son-in-law know that he's only a bum. So, Freddie has an idea on how to fix the course of true love …
Love Is an Itch You Can't Scratch Act II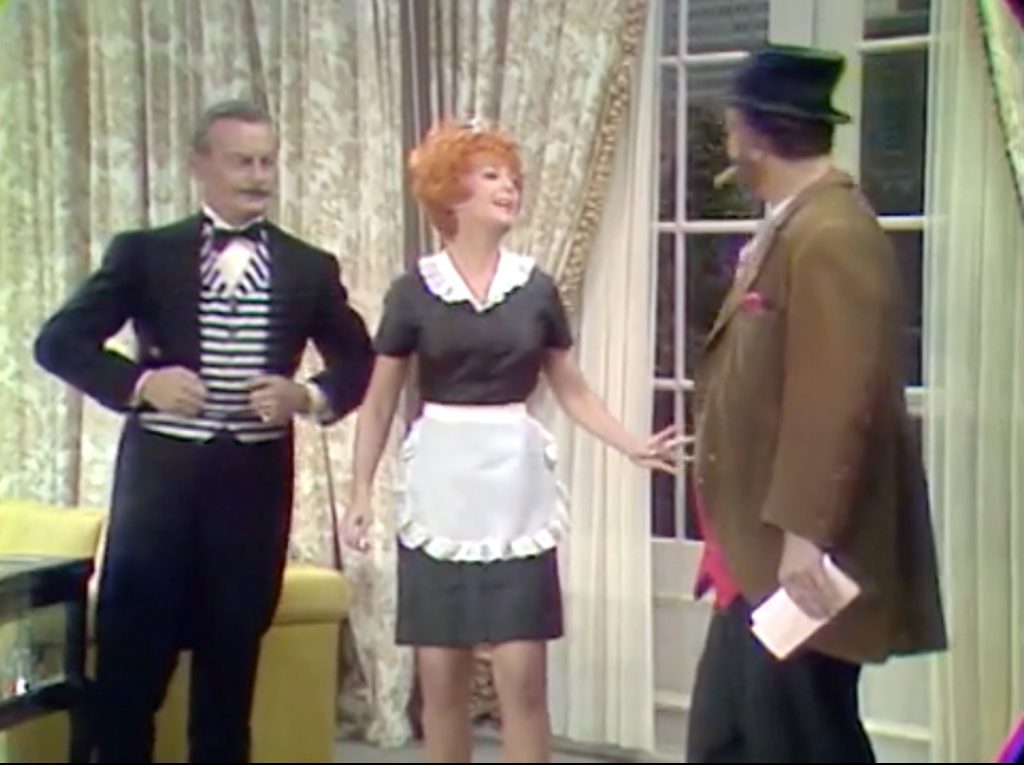 Freddie the Freeloader makes a "special delivery" of a large box to the mansion of the wealthy Van Smythes — who are on vacation in Mexico. After he "gives" the butler and maid the day off, he opens the box and lets his pal Mugsy out. The plan is, to have Mugsy pretend to be wealthy, and impress his future son-in-law. After "borrowing" a robe to cover Mugsy's rags, the daughter arrives. She joyfully embraces her "successful" father.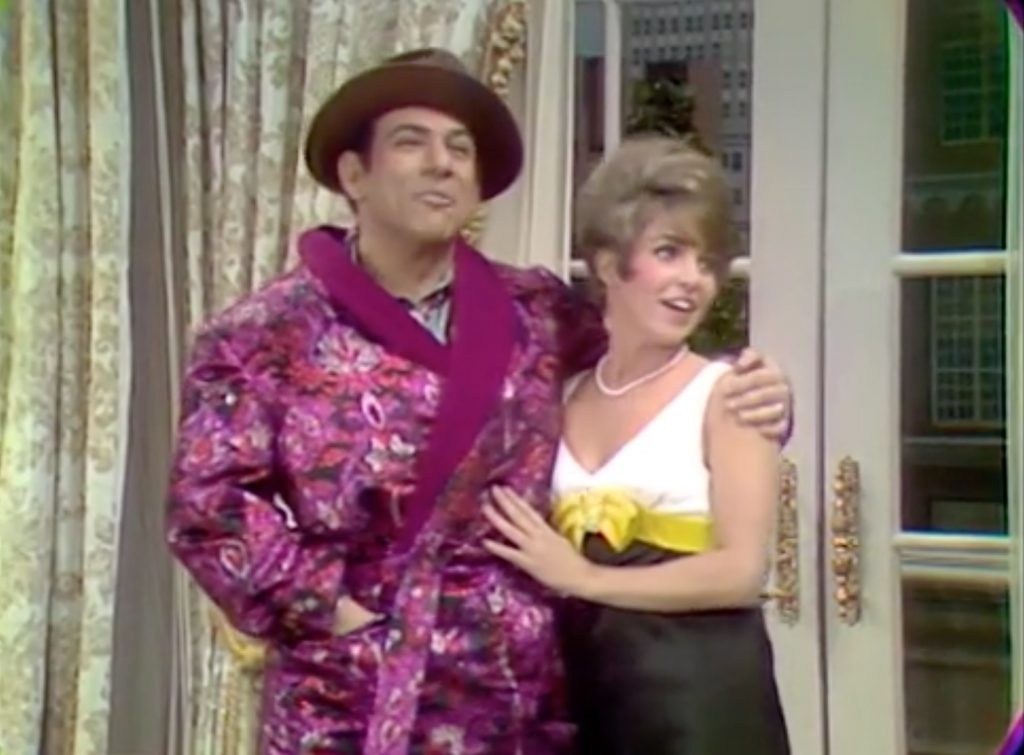 "We owe it all to Freddie the Freeloader, the greatest help to lovers since the invention of mouthwash."

Mugsy (Herschel Bernardi)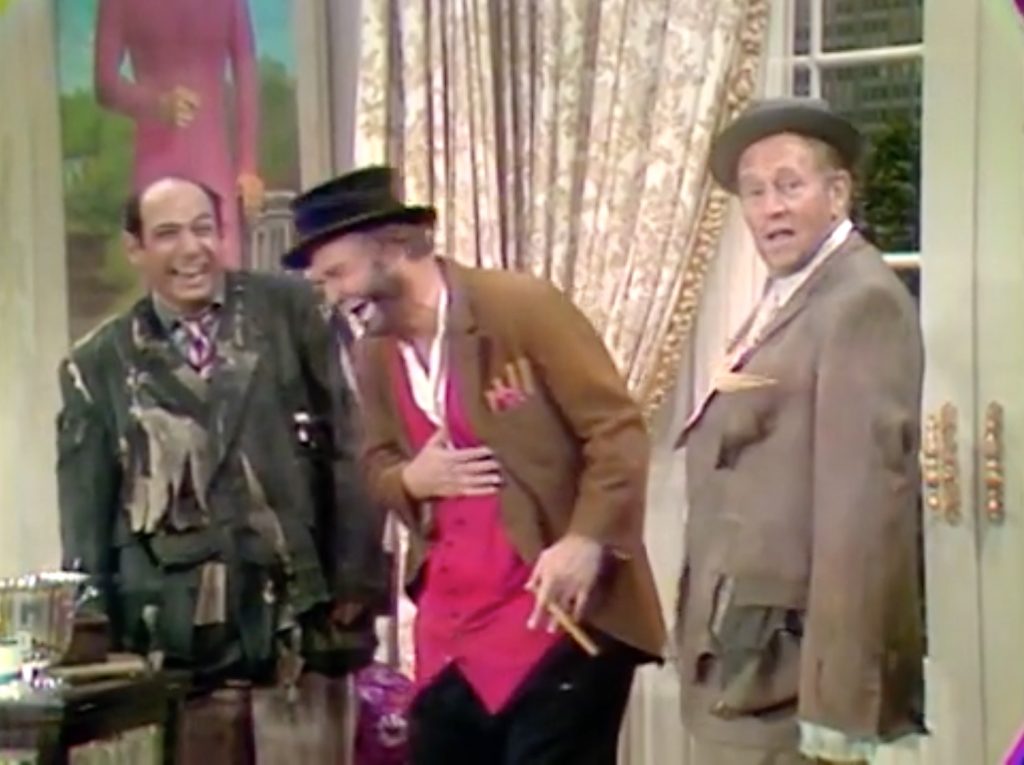 A moment later, her fiancée arrives. And he has a confession to make. His father is a bum! And in walks his father — Art Linkletter as a hobo! For those who don't get the joke, Mugsy's daughter is portrayed by Art Linkletter's daughter. Her reaction — and Red's — is priceless. The other hobos react, and after a moment the three bums walk out, singing the wedding march — "Bum, Bum, ba Bum …"
Classic Red Skelton – The Sultan
On Stage
One Minute Dramas
Cashing a check

Red simply wants to cash a check at a new bank …

The New Surgeon

What happens when a retired stage magician becomes a surgeon?

Sure Cure

A "sure cure" for indigestion — but I'm not going to take it!
Silent Spot – The Fishing Hole
The Fishing Hole is an absolutely hilarious skit! Red Skelton simply wants to buy some fishing worms, to go fishing. And the elderly man running the shop hands him a bucket and shovel! So, Red starts digging, pulls up his plants, bushes, trees …. And in the process damages the man's house! But eventually …. Triumph!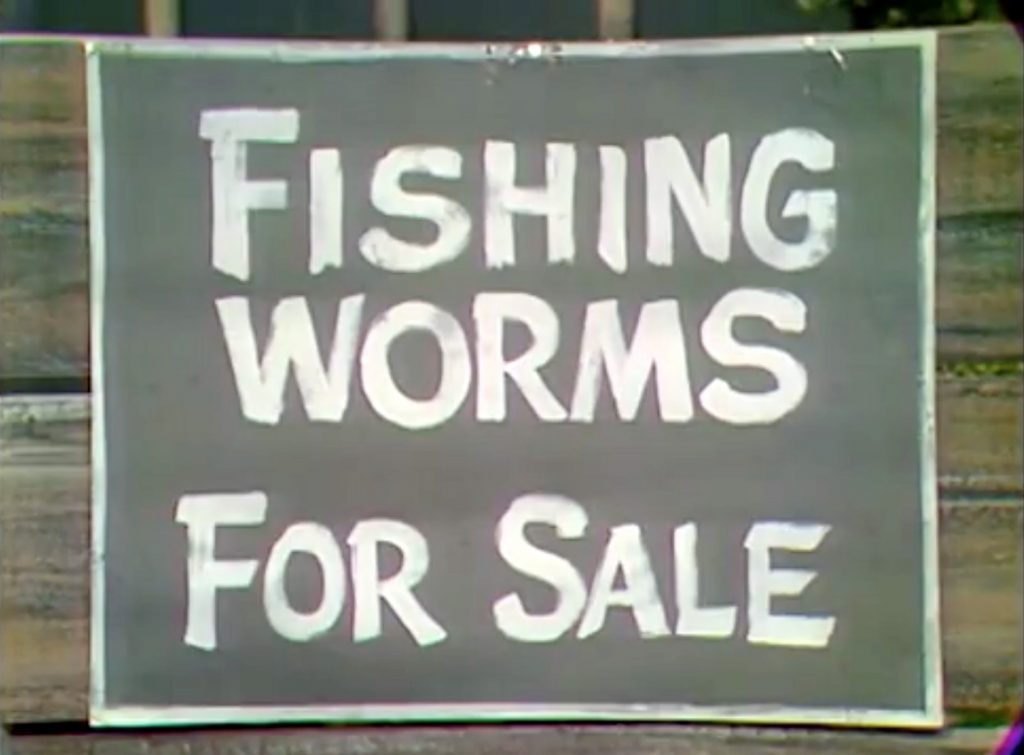 Cast
Red Skelton … Self – Host / Freddie the Freeloader / Fisherman-Silent Spot
The Alan Copeland Singers … Themselves
Herschel Bernardi (Peter Gunn) … Muggsy – a Hobo
David Rose and His Orchestra … Themselves
Art Gilmore … Announcer (voice)
Chanin Hale … The Van Smythe's Maid
Richard Karie … Jenny's Fiancee
Jody Lawrence … Baton Twirler
John Lawrence … Bit Role
Diane Linkletter … Jenny – Muggsy's Daughter
David Sharpe … Elderly Worm Farmer — Silent Spot
Gilchrist Stuart (The Sound of Music) … The Van Smythe's Butler
Tom Hansen Dancers … Themselves
Art Linkletter (Champagne for Caesar) … Hobo (uncredited)
Beverly Powers (The Comedy of Terrors) … One Minute Dramas Cue Card Lady
Songs
Sunrise, Sunset

Written by Jerry Bock and Sheldon Harnick
Performed by Herschel Bernardi

The Everett McKinley Dirksen March

Written by Red Skelton
Performed by the Tom Hansen Dancers