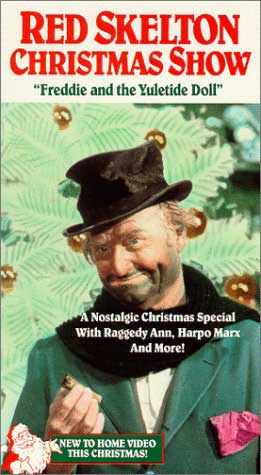 Red Skelton Christmas Show, featuring "Freddie and the Yuletide Doll", as well as guest-starring Harpo Marx
Red Skelton Christmas Show is a wonderful collection from Red Skelton's long-running television series. It consists of three routines:
Willie Lump-Lump's sideways room
The Silent Spot, co-starring Harpo Marx.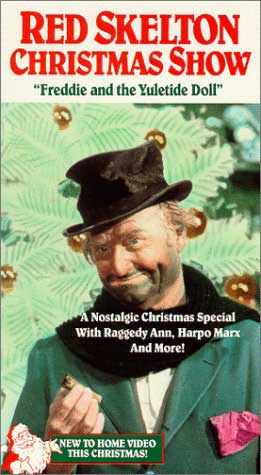 In Freddy and the Yuletide Doll, Freddie the Freeloader is all alone on Christmas. He finds a Raggedy Ann doll that's been dropped by a shopper. Freddy daydreams the doll coming to life, as the lovely Cara Williams. And a courtship of sorts happens, with Freddy at his finest. Playing a tune on icicles, skating with the Doll on ice, etc. Of course, this bliss is rudely shattered at the end when he wakes up, and the shopper retrieves the doll. A truly bittersweet episode, made all the more poignant in that it's silent. Neither Freddy, the Doll, nor the shoppers and other people utter a single word. Although there is some nice singing by some strolling Christmas carolers.
In the Willie Lump-Lump episode, one of the most famous (and most expensive) skits ever filmed is presented. In a nutshell, Willie's long-suffering wife tries to shock him out of drinking by making his room sideways, so that when he pours a drink, it 'falls up', etc.
The Silent Spot has Red portraying an American soldier during World War I. On the opposite side, separated by a thin wall of sandbags, is Harpo Marx, a German soldier. In this hilarious, silent skit, the two learn to make friends, not war. This includes a hilarious moment when they play checkers, with Harpo cutting the buttons off of Red's shirt with his bayonet (for the checker pieces, of course). With an excellent ending, as the two privates are forced to fire upon each other by their respective superior officers.
I rate it 5 clowns on a 5-clown scale.