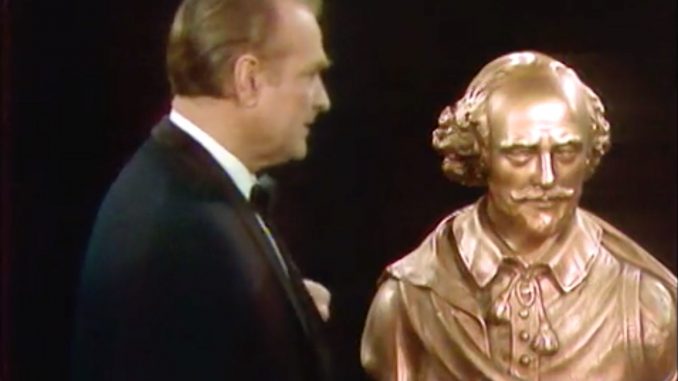 The Seven Ages of Man, The Red Skelton Hour, with Maurice Evans, season 17, originally aired September 12, 1967
The Seven Ages of Man is a special episode of The Red Skelton Hour, based on the Seven Ages of Man from William Shakespeare's play 'As You Like It'.
Monologue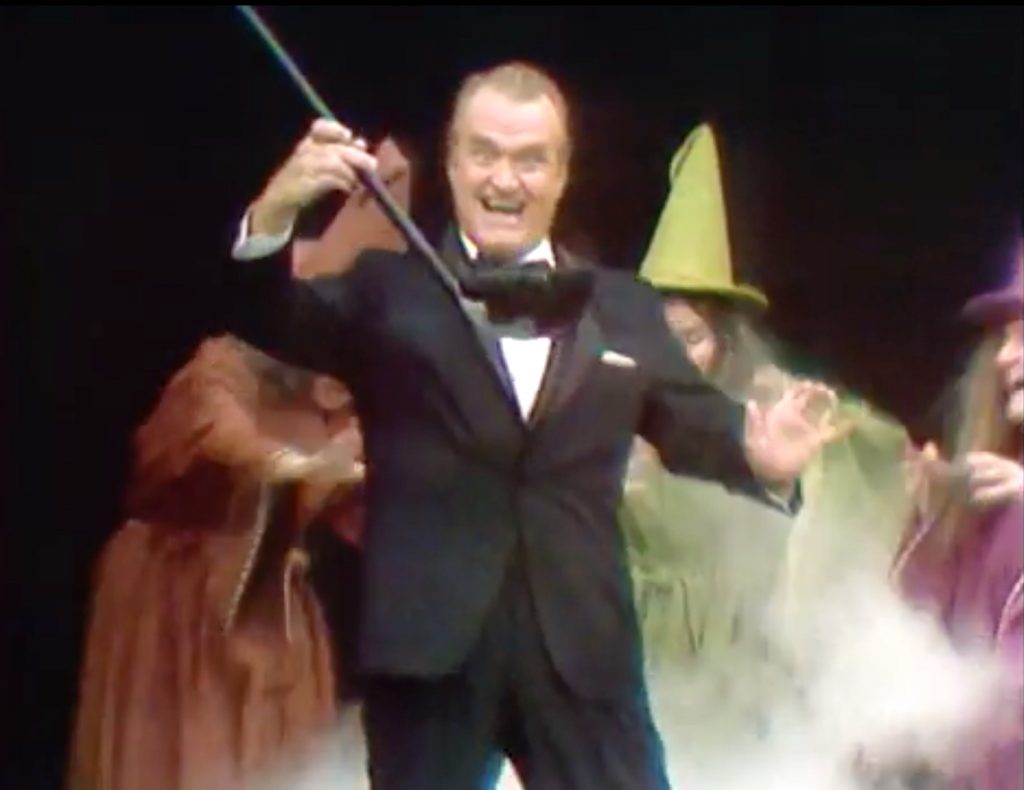 In pace with this Shakespeare special, Red does Shakespeare-themed prop comedy
Yorick
Out, damned spot
My kingdom for a house
But soft, what light through yonder window breaks
Bubble, bubble, toil & trouble – "Ah, that's beer!"
At Maurice Evans' suggestion, Red's going to demonstrate the Seven Ages of Man, with his various characters. Maurice narrates, "All the world's a stage …"
The Infant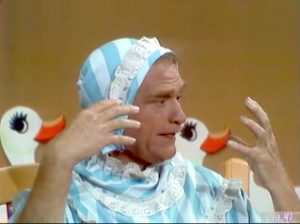 Red as a baby, with oversized props. He plays with his fingers, the "duckies" on the wall, then "drinks" his milk. Nearly swimming in it. He then tries to decide between sucking on his pacifier, or his thumb. The thumb wins! All the time, the music to "You've got the cutest little baby face" is playing in the background.
Then, a "giant" nurse delivers Baby Red his one-year birthday cake! Complete with a lit candle …. After burning himself, he swats the candle, and the fire goes out. And, like a young child, he looks around to see where it went! He then tries to eat the candle, and then starts eating the cake …. By the handful! Afterward, he realizes that cake can be a projectile! Finally, Baby Red is all worn out, and falls asleep. Face-first into the cake!
Childhood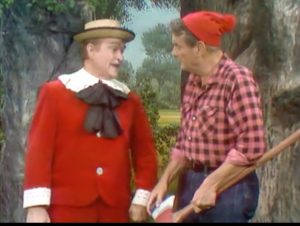 Junior, the Mean Little Kid, doesn't want to go back to school. His mother tries to persuade him nicely …. Then the lumberjack just wants to get back to work! He's already three trees behind …. But then Junior hears scary animal noises, and a furry arm comes down! What is it? According to Junior, it's …. Phyllis Diller!
So, he's now willing to go back to school, and become smart. Maybe even President one day. Heaven help us all!
The Lover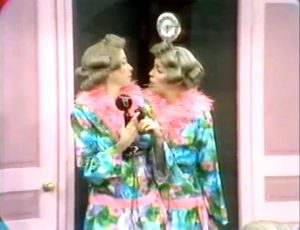 This is effectively a recreation of a silent skit that Red did in Jerk of All Trades. Set during the Roaring Twenties, Red has a blind date. But, unknown to him, his date is one of a set of twins. And the twin sister is also waiting for a blind date! The inevitable mix-ups occur, to comedic effect.
Allergies to the flowers that Red brings, not wanting his chocolates, etc. So Red's leaving, and the twin sister comes out. Who loves Red's flowers! Candy? How sweet! Poor Red is befuddled, of course. Then, this sister goes back in her room, and the 1st sister comes out. Rejecting Red (again), throwing away his flowers (again), etc. And when Red's not looking the sisters trade places again. And poor Red's not sure if they're crazy … or he is!
There's some very funny prop comedy, with his date's hair curlers, his hip flask, and his recurring effort to throw his hat on the coat rack. Eventually, both twins come out at the same time — and decide to fight over Red! Who then gets out, while the getting's good!
The Soldier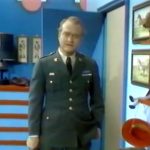 Soldier Red walks into a young boy's bedroom, with his duffel bag. Once there, he sings "Little Boy". It's a bittersweet song, composed by Red himself. Speaking for myself, I couldn't help but think of Red's deceased son, Little Richard, who died from Leukemia nine years before, as Red was singing it. It all but brought me to tears. Very touching.
Judge
Red portrays a portly judge in his courtroom.
Judge: I'm the hanging judge!
Court Clerk: Look at that belly!
Judge: That's what's hanging!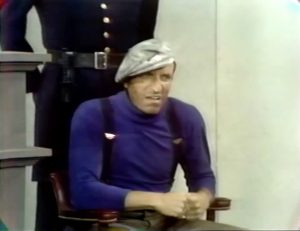 It's a very funny, fast-paced sketch. Maurice Evans appears as the District Attorney (Ta Ra Ra Boon, D.A.). First on the docket, it's Killer McBumpoff! Take the stand! Put that back! And some very funny slapstick between the judge and the court bailiff.
And the D.A.: "Where's the elevator? I want to take this case to a higher court!"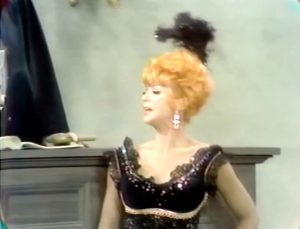 Then, it"s time for Bubbles Laverne! Leading Judge Red to react, destroying part of his courtroom in his exuberance. Of course, all of the men in the courtroom are falling for the lovely Bubbles …
Court Clerk: Judge, remember your age!
Judge Red: I am, I am, and that's what's killing me!
And, at the conclusion, Bubbles and the judge walk out arm in arm! After all, she only killed her husband once!
Senior Citizen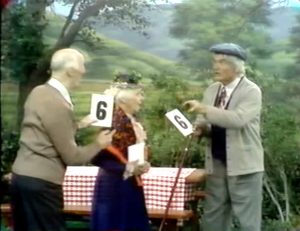 At the Senior Citizen's annual picnic, Red portrays his elderly Pops character. He's paired up with an elderly, though still attractive, woman. And as the saying goes, Pops may be old, but he's not dead yet! There's a lot of physical comedy, as Pops tries to do the various "manly" things, such as opening a peanut butter jar, or slicing the bread. But, he keeps failing, and the woman "helps" him. Eventually, Pops gives up, and hands his date off to another elderly man (Burt Mustin) and walks off.
The Old Man Visits Washington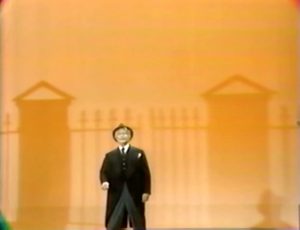 "So comes an a little pantomime about an old man in the late afternoon of life, who's fulfilling one last ambition before the dark shadows of life's evening falls. He's visiting the heart of democracy, our great nation's capital. Let's walk along with him as he views the White House, the Lincoln Memorial, and finally the Washington Monument."
Cast
Red Skelton … Self – Host / the Baby / Junior the Mean Widdle Kid / Charlie the Swinger / Soldier / the Hanging Judge
The Alan Copeland Singers … Themselves
David Rose and His Orchestra … Themselves
Maurice Evans (Planet of the Apes, Bewitched) … Self / Ta Ra Ra Boon DA
Art Gilmore … Self – Announcer (voice)
Chanin Hale … the Nanny / Bubbles Laverne
Ray Kellogg … Court Bailiff / Woodsman
Florence Lake … Senior Citizen
Len Lesser (Kelly's Heroes) … Killer McBumpoff
Burt Mustin (The Andy Griffith Show) … Court Clerk / Senior Citizen
Louanne Rhobere … Twin Sister #1
Suzanne Rhobere … Twin Sister #2
Doris Singleton (I Love Lucy) … Mrs. Cavendish (The Mean Little Kid's mother)
Music