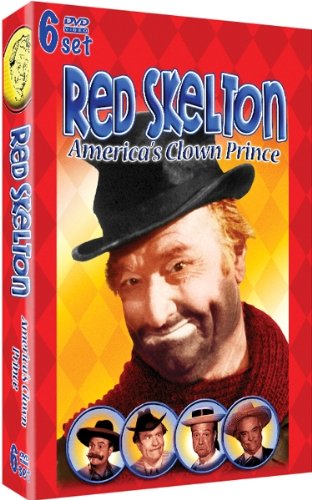 Red Skelton €- America's Clown Prince – 6 DVD Set
I am a huge fan of Red Skelton, and one of my pet peeves is that even though he had thirty years of prime time television series, it's not rerun anywhere. Therefore, I €™m truly grateful for Red Skelton – America €™s Clown Prince. In short, it simply is a 6-DVD collection of The Red Skelton Show (technically, a 5-DVD collection of the TV series, with the 6th containing some odds and ends, such as appearances in Sparks, Nevada, movie trailers, Red Skelton'€™s presentation of the Pledge of Allegiance, etc.).
The negative is that some of the shows are quite grainy, but that's to be expected, since these date from the 1950'€™s and 1960'€™s.   Some of these I'€™d seen before, and some of them were the first time I'€™d seen them, which made them especially sweet.   There €™s a wide selection of Red Skelton'€™s numerous characters, from the well-known hobo Freddie the Freeloader, country bumpkin Clem Kadiddlehopper, con artist San Fernando Red, henpecked George Appleby, punch-drunk boxer Cauliflower McPugg, cowboy Deadeye, the souse Willie Lump-Lump, as well as some lesser-known characters such as Weepy.
The contents of the six DVDs are as follows:
Disc 1
Clem and the Dalton Girls

Clem Kadiddlehopper, guest starring Jayne Meadows

Humphrey School of the Dramatic Arts

guest starring Gary Moore

Clean Fighter
Deadeye and the Alamo

Sheriff Deadeye and guest star Cesar Romero tell the "true" story of the Alamo

One Good Intern Deserves Another
Disc 2
Clem in Dogpatch

guest starring Al Capp, author of the Li €™l Abner comic strip, where Clem Kadiddlehopper – a personal favorite, where Clem interacts with Li €™l Abner and Daisy June – "Would you like hominy grits?" "Hominy? Oh, just one or two, I €™m not very hungry."

GI Mcpugg

Cauliflower McPugg in the Army

Clean Politics

San Fernando Red in "clean" politics

Deadeye and the Gunslinger
The Sultan

Freddie the Freeloader's first appearance
Disc 3
Marooned

Red marooned on a desert island, with a cute tie-in to the sponsor, Tide

Fancy Footwork

Cauliflower McPugg, in a fight against a very young, and muscular Charles Bronson

San Fernando in Alaska

guest starring Edie Adams as San Fernando Red's assistant, Ruby – they've been chased out of every other state in the union, so it's off to bilk Alaska – a very funny episode

The Stagecoach Robbery

Where Deadeye and his gang try to hold up a stagecoach, with the pretty young female sheriff inside – if they don't get scalped first

The Hobo's Dilemna

A funny, and sweet, Freddie the Freeloader episode, where Freddie has to talk a young boy out of running away from home
Disc 4
Willie and the Burglar

Willie Lump Lump gets burgled in the middle of the night

Quiz Show Winner

Willie Lump Lump wins on a quiz show?

Whistle Stop
Lillian Martin
Freddie's Romance

guest star Rhonda Fleming
Disc 5
Flugelmeyer's Secret Formula
The Railroad Station

Willie Lump Lump, Clem Kadiddlehopper, first appearance of Cauliflower McPugg

Indiana

guest starring Don Knotts and Amanda Blake (Gunsmoke)

Desert Island

guest starring Buster Crabbe (Flash Gordon) and Jamie Farr (M*A*S*H)

Freddie and the Baby

guest starring the ever-funny Ed Wynn
Disc 6
Sparks NV Performance
Red's Movie Trailers
The Pledge of Allegiance
Red Entertains the Troops
Red at the Reno Rodeo
Editorial review of Red Skelton €"America €™s Clown Prince – 6 DVD Set, courtesy of Amazon.com
RED SKELTON – AMERICA €™S CLOWN PRINCE – 30 HILARIOUS EPISODES – 6 DVD SET! Among America €™s great comedians, Red Skelton is certainly the most beloved, along with his gallery of characters, including Clem Kadiddlehopper, San Fernando Red, and of course, Freddie the Freeloader. Red Skelton entertained us with his charm, wit and warmth for decades, on stage, on radio, in the movies and on his hit television program. Movie and television stars lined up to appear on his television show, week after week, year after year, entertaining us and themselves in funny skits with Red. Whether you have been a long-time fan, or are just discovering America €™s Clown Prince, this special 6 DVD disc set is a must-have collection of Red Skelton €™s unique comedy genius. Watch Clem and the Dalton Girls, Humphrey School of Dramatic Arts, Clean Fighter, Deadeye and the Alamo, One Good Intern Deserves Another, Clem in Dogpatch, GI McPugg, Clean Politics, Deadeye and the Gunslinger, The Sultan, Marooned, Fancy Footwork, San Fernando in Alaska, The Stagecoach Robbery, The Hobo €™s Dilemma, Willie and the Burglar, Quiz Show Winner, Whistle Stop, Lillian Martin, Freddie €™s Romance, Flugelmeyers €™ Secret Formula, The Railroad Station, Indiana, Desert Island, Freddie and the Baby. Red €™s famous Pledge of Allegiance and much more!