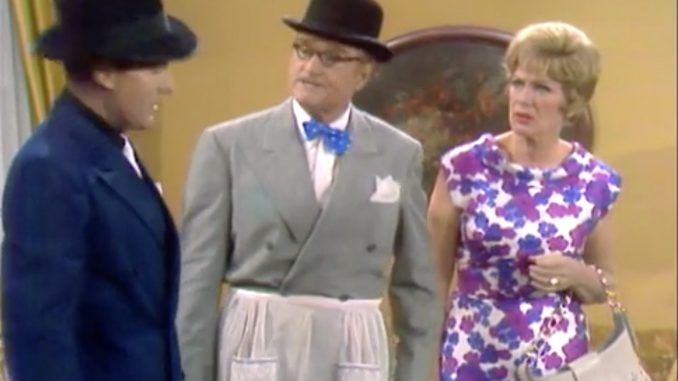 For Better or Worse Like George Appleby Got – The Red Skelton Show, season 17, with Eve Arden and Robert Stack, originally aired September 5, 1967
For Better or Worse Like George Appleby Got – escaped convict Bobo takes George Appleby and Clara as hostages to Mexico!
Monologue
We're ready to start my 17th season on television, and I'm just as surprised as you are!
I met Twiggy … Isn't she skinny? Her chest got sunburnt and her back started to peel!
When she gets sunburned she looks like the stopper in an iodine bottle!
While I was in London, I saw that all the fellas over there, you ought to see 'em, long hair. This one guy had long hair, earrings, and a bracelet that says, "I'm a man".
Those haircuts, I tell you, some of them look kind of funny. I saw one guy who looked like crab grass with a part.
I don't mind the kids wearing their hair long, the fellas. But when they got these bobby pins, it says "his" and "hers".
I remember when I was a kid, you had to wear these corduroy knickers, you remember those things? You looked like your knees had the mumps.
You know how long ago I went to school? You remember Lincoln's Gettysburg address? It was a current event.
Two seagulls, Gertrude and Heathcliffe are talking. He says, "Well, sir, I think I'll go on the Ed Sullivan Show, go on there and do some imitations. Old Ed loves imitations, you know." She says, "What're you going to do?" He says, "Watch this. Peck, peck, ouch! Peck, peck, peck, peck, ouch! How do you like that? … Woodpecker with chapped lips!"
Red closes with a pantomime of a crooked jockey trying to throw a race.
Act I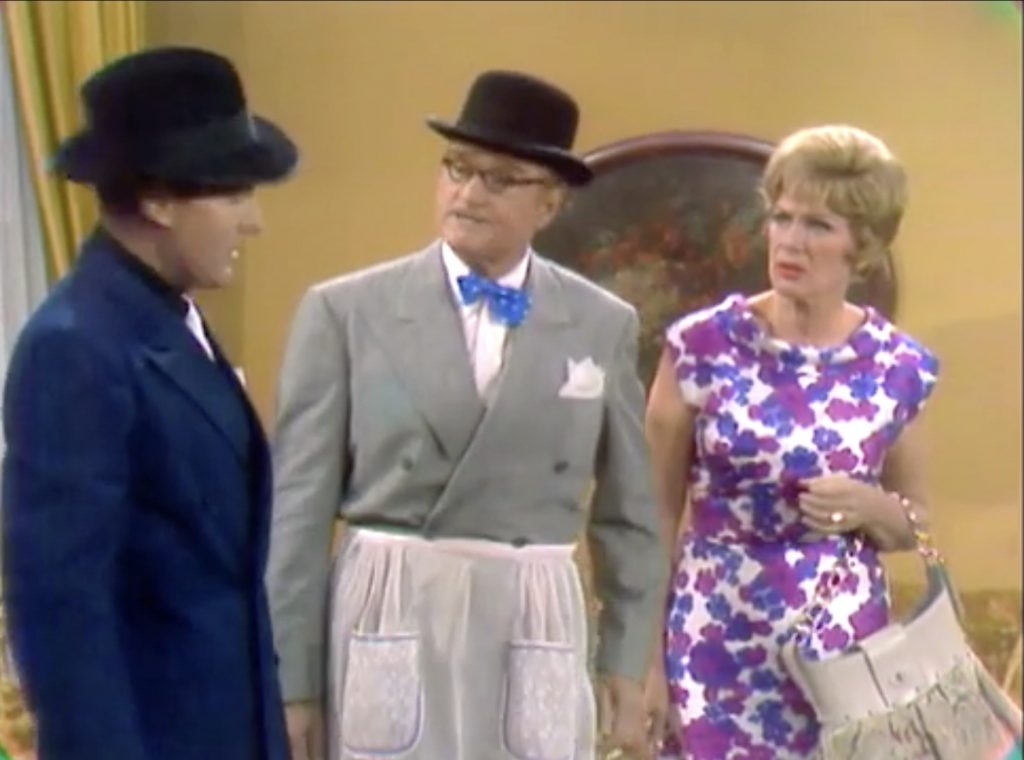 The sketch begins with Mrs. Appleby (Eve Arden) working poor George Appleby like a horse. Which he makes fun of, with a feed bag! After some verbal — and physical — slapstick, they hear on the radio about an escaped convict, Bobo Magoon, who's on the loose — in their neighborhood! Then, the doorbell rings, and George answers it. After all, who's ever heard of an escaped convict politely ringing the bell?
Well, there's a first time for everything! Do the Appleby's take in borders? No, they don't. But after a very comical bit of Bobo shooting out the chandelier – complete with a delayed reaction — they do now! After multiple failed slapstick attempts at capturing him, Bobo decides to have them all get in the Appleby's car and drive to Mexico!
Act II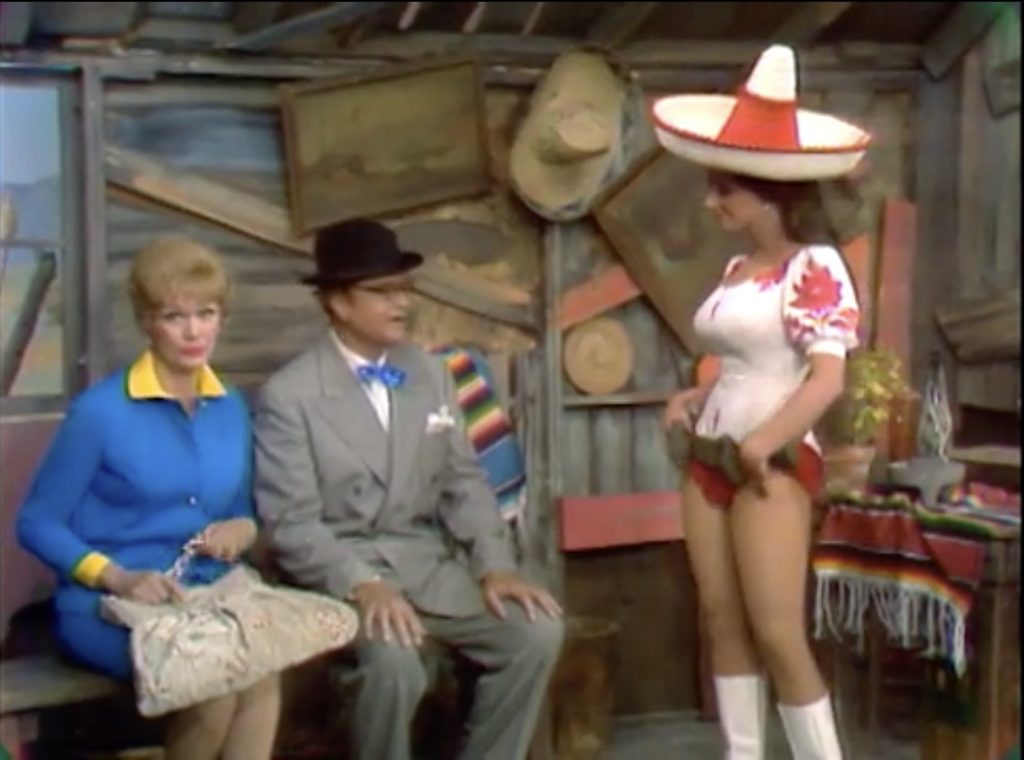 Soon, Clara and George are prisoners in Bobo's Mexican hideout. After several jokes about how unkempt it is, Bobo tells them that they'll be guarded by the deadliest bandits in Mexico — Pedro! And the shapely Pedro comes in, and George is no longer in any hurry to leave. But Clara has a plan — she'll turn on her charms to get Bobo's attention, giving George a chance to escape out the window and run for help. The plan fails, of course, but when Clara starts berating George …. Bobo stands up for him! Then, in comes Sergeant Martinez of the Royal Mexican Mounted Police to take Bobo back to jail. But George rescues his new buddy, and the four of them go back to the Appleby's house to live, ending the sketch.
Classic Red Skelton Sketch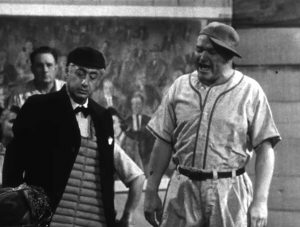 Songs
Folk/rock singer Johnny Rivers performs :
"Help"
"The Track of My Tears."
One Minute Dramas
The first installment of this ongoing routine
How TV Stars Make Love

With cue cards, of course! What could possibly go wrong?

The Accident

What to do if you're the first person on the scene of an accident? Not this!

The Genius

Man wasn't meant to fly? Wilbur Wright disagrees!

Man Escorting Girl Home From Date

She's forgotten her key! Good thing her date is her chemistry professor …
Cast
Red Skelton … Self – Host / George Appleby
The Alan Copeland Singers … Themselves
Eve Arden (Mildred Pierce; Our Miss Brooks [movie]; At the Circus) … Clara Appleby
David Rose and His Orchestra … Themselves
Art Gilmore … Announcer
Joyce Rees … Henchman 'Pedro'
Johnny Rivers … Guest Vocalist
Robert Stack (To Be or Not to Be; Airplane!) … Bobo Magoon , Escaped Convict
Tom Hansen Dancers … Themselves
A.G. Vitanza (The High Powered Rifle) … Sgt. Martinez
Act I Jokes
[Mrs. Appleby answering the phone] This is the home of that idiot, George Appleby. This is his idiot wife, speaking. …. Well, I'd have to be. I married him, didn't I?
[To George] Now fix the radio. I want to hear Phyllis Diller's beauty hints.
Mrs. Appleby: What happened to the sweet, kind, devoted man I fell in love with first?
George Appleby: The Indians killed him at the Little Bighorn!
Mrs. Appleby: George, show some backbone!
George Appleby: Backbone?
Mrs. Appleby: You remember where you keep it, right under your yellow streak.
Act II Jokes
George Appleby: Why do you always punch me whenever she tells a joke?
Bobo Magoon: My momma taught me to never hit a lady.
George Appleby: Keep that in mind if you ever meet one!
Clara: Pedro is very well armed …
George: Her legs aren't bad either!
Clara: Bobo, where did you ever get such a sweet face?
Bobo: My mother was frightened by Elliot Ness. [Editor's note: at the time, Robert Stack portrayed Elliot Ness in "The Untouchables"]