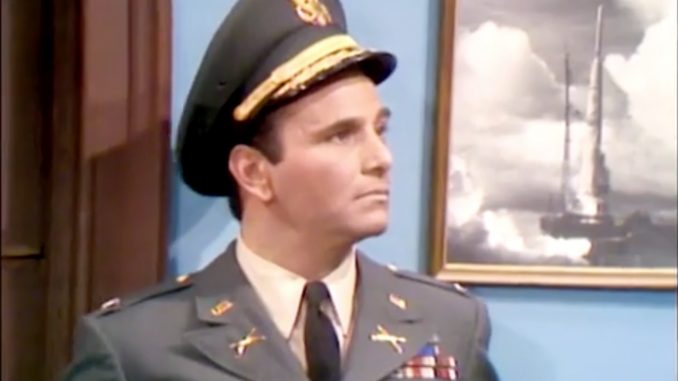 In One Head and Out the Other – with Peter Falk – The Red Skelton Hour season 16, originally aired January 3, 1967
In One Head and Out the Other – Clem Kadiddlehopper goes to Washington D.C. to get a job as a janitor. But he's so stupid, the Pentagon hires him, since he's too dumb to remember any of their secrets! But then the military robot, Roberta, wants to marry him!
Monologue | In One Head and Out the Other | Classic | Music | Cast | Quotes
Monologue
Hey, there were two cowboys talking this afternoon, and one of them says, "Did you hear that Reagan is going to raise taxes?" And the other guy pulled out a gun and shot him. He says, "What'd you do that for?" He says, "I misunderstood … I thought Reagan was raisin' Texas."
Nows the time of the year where we get ready to pay the income tax, and they say, "Pay it with a smile". I tried it, but they want money.
There was one fellow who wrote one of those advice columns. He wrote, "Dear Gabby, last year I made $300,000 and I paid 55 cents in tax. What do you think I should I do?" The answer was: about 20 years.
The taxes are really something this year. Did you hear what happened to Bonanza? The Cartwrights are going to have to subdivide the Ponderosa!
The only person who looks forward to paying her income tax is Phyllis Diller. It's the only time of the year she can fill out her form.
You know that I did this year? I took out a 50% deduction for myself. You know why? My wife says I'm half the man I used to be.
Making out these deductions, it's like the horns on a steer. A point here and a point there, and an awful lot of bull in between.
Gertrude and Heathcliffe
The two seagulls, Gertrude and Heathcliffe, are talking, see. And she says, "You know, after all these years of experimenting, I have now come up with a real thing, a real thing. A square egg." He says, "A square egg? Well, don't that hurt?" She says, "Yes, but it's worth it. They never roll out of the nest."
In One Head and Out the Other – Act I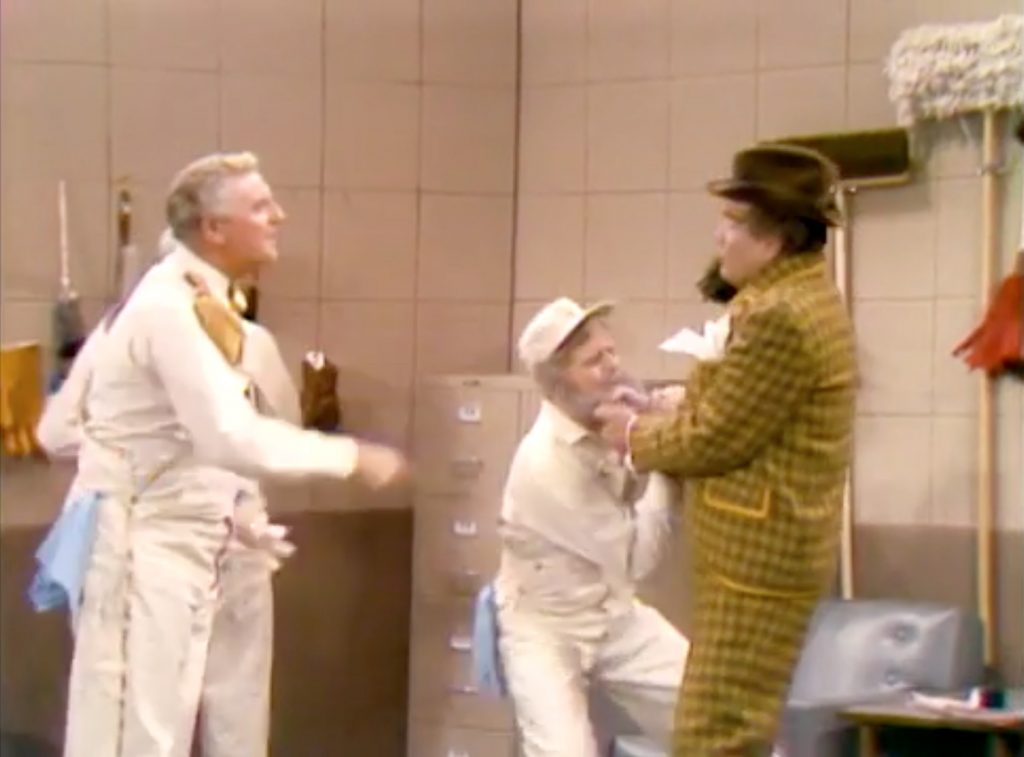 In One Head and Out the Other begins at a Janitorial school in Washington, D.C. Clem Kadiddlehopper arrives late, offering a "helping hand" through the mail slot! After some clowning around, he eventually comes in, but misinterprets Sam Supersweep's order to "grab a brush" — And grabs a classmate's beard! In the ruckus, he accidentally throws him out the window!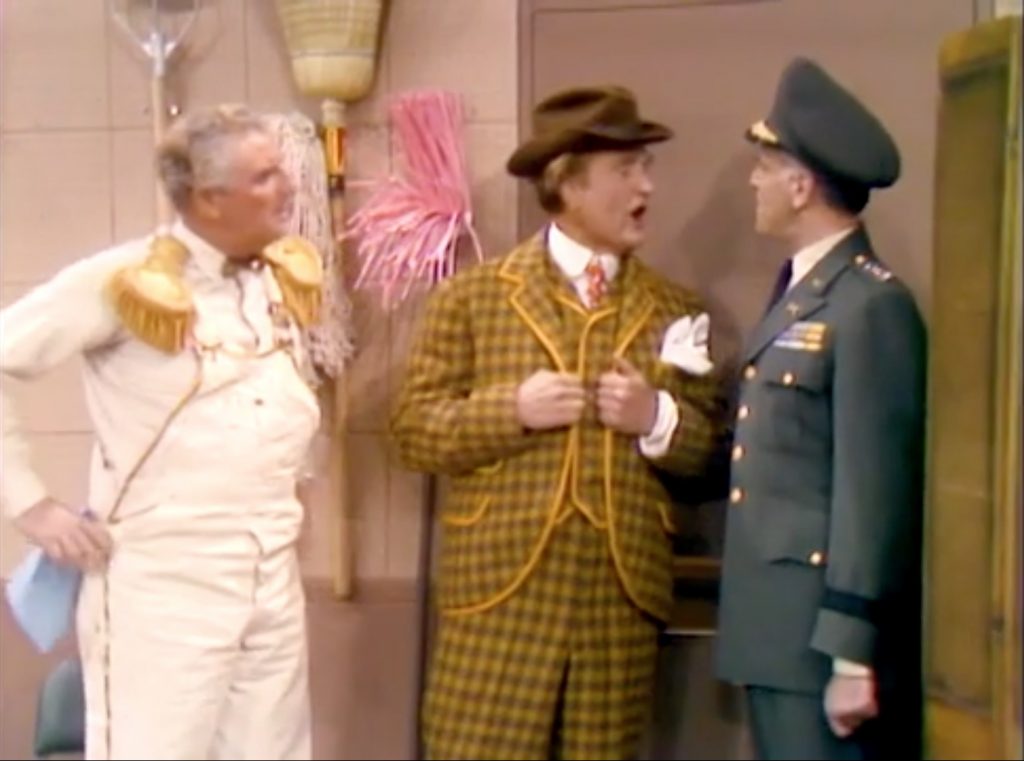 Oddly enough, his sheer stupidity gets him a job working at the Pentagon! General Important hires him since he's too stupid to know anything, and too stupid to remember anything. So, he won't be able to tell any spies what he knows …. Since it's nothing! But he'll regret it soon enough … But Clem works in his Boy Scout vs Army joke on the way out!
In One Head and Out the Other – Act II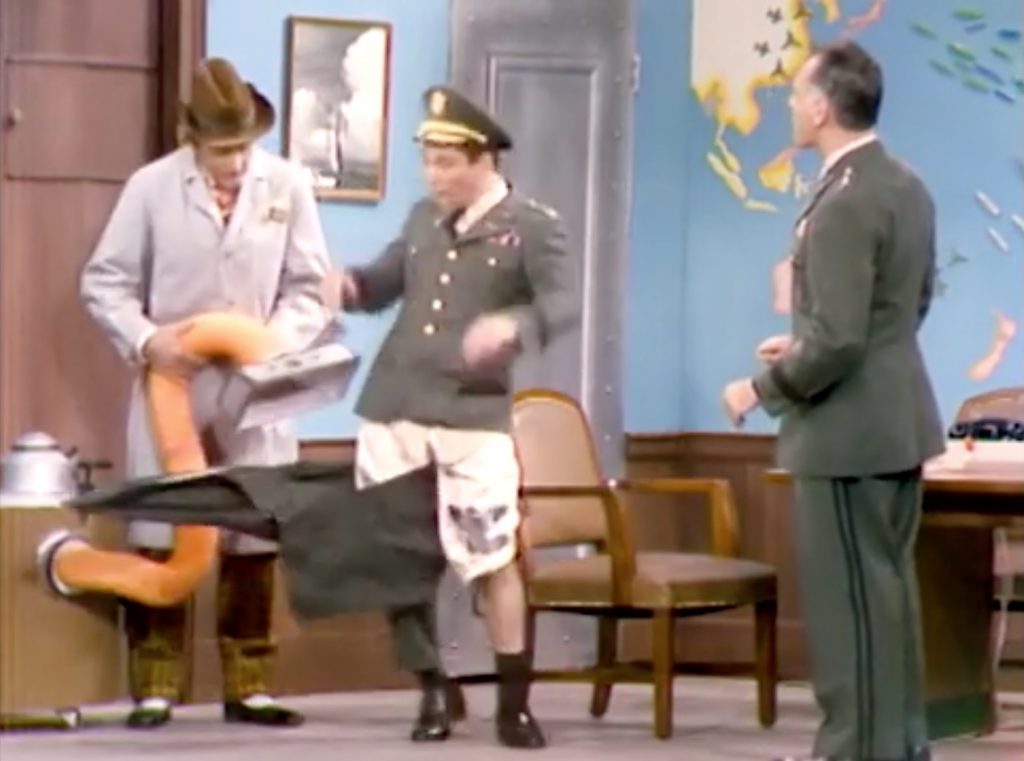 At the Pentagon, General Important has a meeting with he head of maximum security, Colonel Hush-Hush (Peter Falk). After some quick jokes, it's revealed that the previous janitor was a spy for Red China. But, the problem's solved with the new, incredibly stupid janitor — Clem Kadiddlehopper! Right on cue, Clem enters with a "mad vacuum cleaner", and off go Hush-Hush's pants!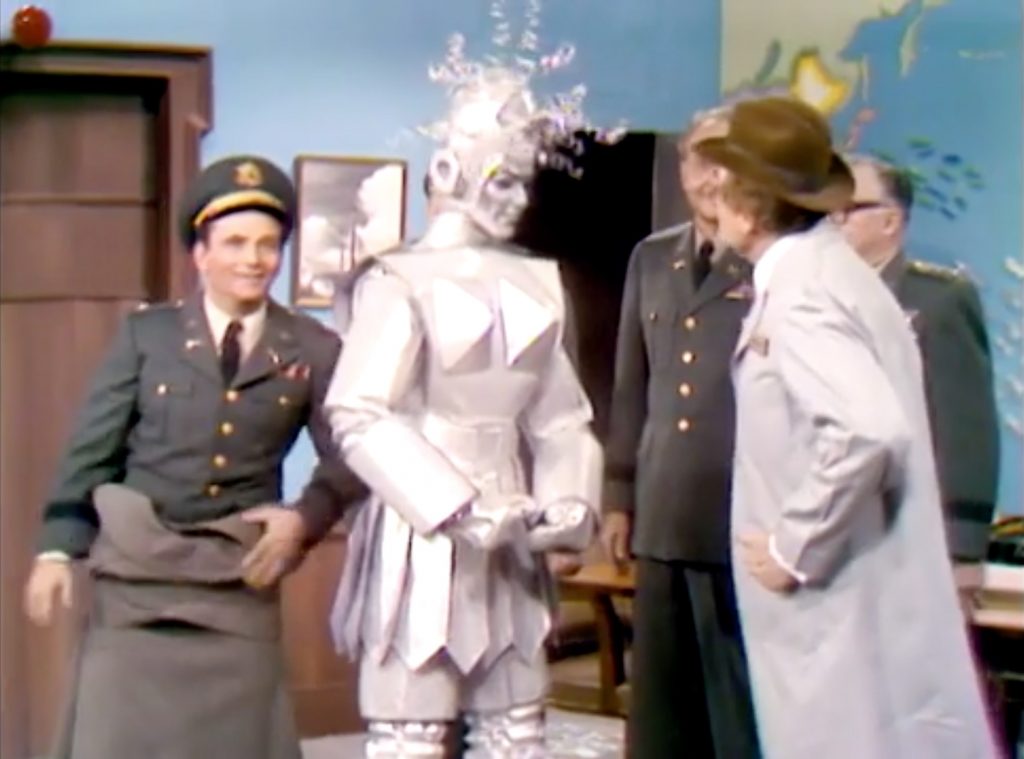 After some joking around, Colonel Hush-Hush starts a meeting, introducing his newest invention. One that he believes will solve their security problems once and for all — Roberta the female robot! She's programmed with both human intelligence, and the entire gamut of emotions. She looks at the people attending the meeting, and singles out — Clem! Not as a spy, however — she's fallen in love! And wants to marry him!
In One Head and Out the Other – Act III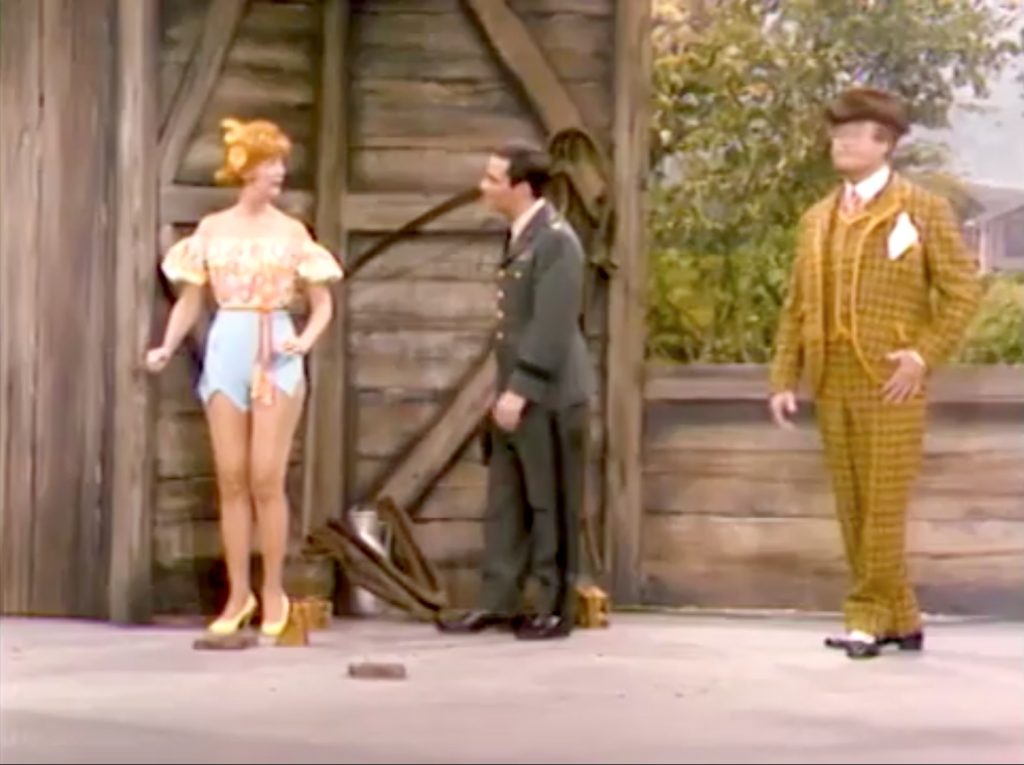 Sent back home by the Pentagon, Clem's girlfriend Daisy June is the only person at Clem's welcome home party. Because she's the only person who's glad that he's coming home! Trying to close their eyes and kiss, they clownishly miss each other, and Colonel Hush-Hush comes in. He's come to warn him that Roberta's broken out, and is looking for Clem …. To marry him! But soon, Roberta is reduced to scrap metal, ending the sketch.
Colonel Hush-Hush: Just like a woman, one argument and she goes to pieces
Classic Red Skelton – Last of the Moccasins
A funny Tide commercial, with Deadeye and his two pals robbing a stagecoach, driven by Benny Rubin, with lady sheriff Lucille Knoch.
Silent Spot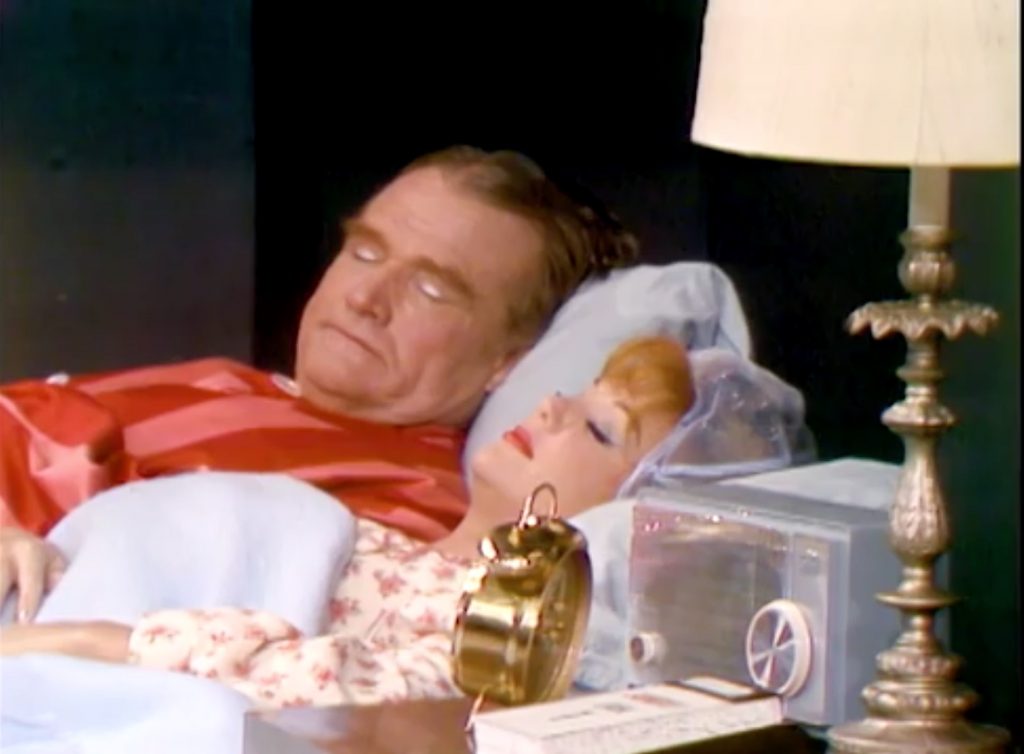 In the Silent Spot, Red mimes a husband who tries to help his wife with household chores to keep his New Year's resolution. He even makes her breakfast, to serve her in bed! The kitchen's a funny, prop comedy affair. Especially how he pours the coffee! In the end, he thinks he's going back to bed. But, the bed has something to say about it!
Music
Jane Morgan sings, 'Monday, Monday', 'Queen of the House' and a group of French songs in tribute to French vocalist Edith Piaf.
Cast of characters
Red Skelton … Self – Host / Clem Kadiddlehopper / Gertrude and Heathcliffe / Husband-Silent Spot
The Alan Copeland Singers … Themselves
David Rose and His Orchestra … Themselves
Jan Davis … Roberta the Robot
Peter Falk (Columbo, The Great Race) … Colonel Hush-Hush
Art Gilmore … Announcer (voice)
Harold Gould (Patch Adams, The Sting) … General Important. Seeing Clem Kadiddlehopper's stupidity, he decides to hire him as janitor for the Pentagon!
Chanin Hale … Daisy June / Wife-Silent Spot
Jane Morgan … Self – Guest Vocalist
George N. Neise (Zorro 1959) … Sam Supersweep. Chief janitor in Washington, D.C. He has the unenviable job of testing Clem Kadiddlehopper as a janitor.
Tom Hansen Dancers … Themselves
David Sharpe … Joe — Old Janitor School Student (uncredited)
Funny Quotes
Sam Supersweep: You shouldn't be coming in on your knees! This is a school …
Clem Kadiddlehopper: Well, I'm just walkin', I ain't praying'!
Clem Kadiddlehopper: Do you know the difference between the Army and the Boy Scouts? The Boy Scouts have adult leadership.
General Important: We're having a leak in security.
Colonel Hush-Hush: Put a pan under it.
General Important: No, no, no, a leak here in the Pentagon!
Colonel Hush-Hush: Oh, well, get a bigger pan.
Colonel Hush-Hush: I can see he's got a soft-boiled brain.
Clem Kadiddlehopper: That makes me an egg head!
Colonel Hush-Hush: Yeah, cracked.
General: You burnt your draft card?
Clem Kadiddlehopper: No, the draft board burnt it!
Roberta the girl robot: [pointing at Clem] Him!
Clem Kadiddlehopper: Okay … [starts singing] "Rock of Ages, cleft for me …"
Clem Kadiddlehopper: [talking about Roberta the female robot] Maybe I could marry her … she's made outta bolts, and I'm nuts!
Daisy June: Clem, if you marry her, our engagement is off!
Clem Kadiddlehopper: I ain't seen a tantrum like that since election night at the Democrat Party headquarters.
Colonel Hush-Hush: [holding onto Roberta the female robot's parts] Isn't that just like a woman, one argument and she falls to pieces!