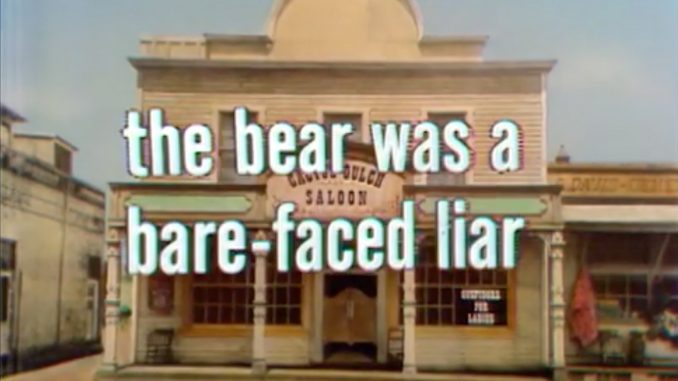 The Bear Was a Bare-Faced Liar – The Red Skelton Hour season 17, with Wally Cox, originally aired November 7, 1967
In The Bear Was a Bare-Faced Liar, crooked Sheriff Deadeye plans to fool hunter Wally Cox in a bear hunt. With the unknowing help of Indian guide Sitting Pretty!
Monologue | The Bear was a Bare-Faced Liar | On Stage | Comedy Blackouts | Silent Spot | Cast
Monologue
Weight
I dropped 25 pounds. From here [pats chest] down to here! [pats stomach]. Of course, I'll lose it, then I'll look behind me and find it again!
Jackie Gleason got on a scale the other day, see, and it was broken, the scale was broken and it didn't register anything. There were two little kids there, and one says to the other, "This guy's hollow!"
I got on a scale the other day, and the card came out, it said, "You're trustworthy, you're honest, and you're handsome." The weight was wrong too!
Cars
I was never so embarrassed in all my life. The other day, I saw a big sign and it said, "This place is a topless, this place is a topless". I went in, and do you know what they were selling? Convertibles!
Hey, the new cars are out this year, and they're calling the new automatic transmission the Hippie transmission. It's for people who don't want to shift for themselves!
And the brand new cars have something that'll stay with you for years — the payments!
I saw the most pitiful car ad. It read: "1957 Edsel – take over payments."
Did you ever notice these car salesmen are always smiling? As a matter of fact, the guy who sold me my Edsel's still laughing!
I bought a used car from a salesman once, and he says, "You buy this, boy, you'll have it all over your neighborhood". He was right — the breaks didn't work! I think it was a nudist car — the gears were stripped on it!
There was a lady, she went to a psychiatrist, and she says, "You've got to do something about my husband. He loves to ride in the convertible with the top down." The psychiatrist says, "Well, a lot of people like to ride in a convertible with the top down". She says, "Through a car wash?"
Red ends with a pantomime about a used car dealer, filming a commercial — who doesn't realize he's already on the air.
The Bear was a Bare-Faced Liar
Act I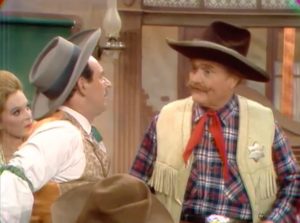 The Bear was a Barefaced Liar begins with Sheriff Deadeye in a shootout …. With a little old lady! Who proceeds to beat him with her umbrella! Undeterred, he goes to the poker game in the saloon — and takes all of the money. "Poker tax." One of the poker players gets indignant and says, "Taxation without representation is tyranny!" To which Deadeye replies, "Yeah, well you oughta live in California and see what taxation's like with representation!" Everything old is new again, it seems …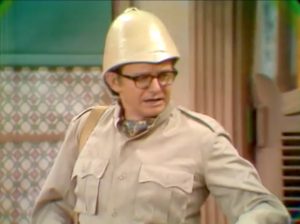 Then, in comes Marvin Manley, holding a snake. Snake bite! Here, drink some whiskey … Glug, glug, glug …. I think there's enough whiskey left for another bite!
But, Deadeye stops that, and finds out that Marvin is a big game hunter. And, he wants to shoot a bear. And he's willing to pay for a guide. Willing to pay up to $500! Although everyone in the saloon jumps at the chance, Deadeye beats them all to it. After all, he saw him first! But, he'll need an Indian guide. So, using an overweight patron's stomach as a drum, he sends out a signal …
Sitting Pretty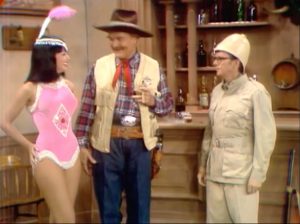 And a lovely Indian maiden (Chanin Hale) responds. Her name? "I am daughter of Sitting Bull and Sitting Duck. I am Sitting Pretty!" There's a lot of humor about the attractiveness of Sitting Pretty. "Me Blackfeet Indian." Marvin (staring at her figure) "I haven't looked that far down yet."
But, before they head out, two things happen: Sitting Pretty does a dance to an Indian spirit. And Sheriff Deadeye, never above a dishonest dollar, arranges for one of the patrons at the bar to put on a bear suit, so he can pretend to shoot him, and collect the money. "But I could get killed!" "No plan is perfect …"
Act II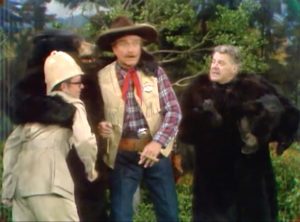 Soon, the trio is out in the woods, looking for bear. Where are they?
"Well, moss on north side of tree of birch tree, sun high over hill of three arrows, and big boulder forty paces from sky blue water … Boy, are we lost."

— Sitting Pretty
Soon, Deadeye's accomplice is there, wearing his bear suit. But he soon sees a real bear and runs away! Deadeye is none the wiser, and he thinks the bear's his accomplice, leading to slapstick as he punches the bear, and it punches back.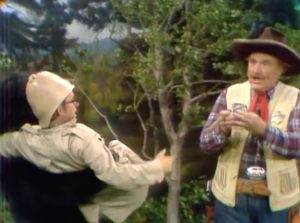 There's some slapstick as Marvin gets his foot caught in a bear trap, and Deadeye gets his hand caught in it after helping Marvin. Eventually, the truth wins out …. The accomplice runs off, as does Sitting Pretty. And the bear's about to run off with Marvin! But, not before Deadeye takes his $500 from Marvin's pocket! And so the sketch ends. Poor Marvin …
Classic Red Skelton
George Putnam vs. Lord Beaverhead. Contrasting authentic news coverage with Lord Beaverhead's … style.
On Stage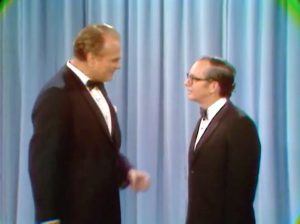 Red and Wally Cox come on stage, in a prelude to the comedy blackouts, where they tell some "short" jokes:
When Wally was born, he only weighed six pounds. And he's been losing weight ever since.
Wally: "I'm too small to get romantic parts, and too big to be a producer."
Red: I suppose you get all the short jokes thrown at you, though? Wally: Yeah, anything that's left over from Mickey Rooney.
Red: Things like, pull your socks up so you'll be blindfolded? Wally: Won't work for me; I've got holes in my socks.
Wally does the classic clown bit, 10 cents for a pair of socks. If I'd had another nickel …
Comedy Blackouts
Silent Spot – The Movie House
In this week's Silent Spot, Red plays the manager of a movie theater. Where anything the can go wrong, does!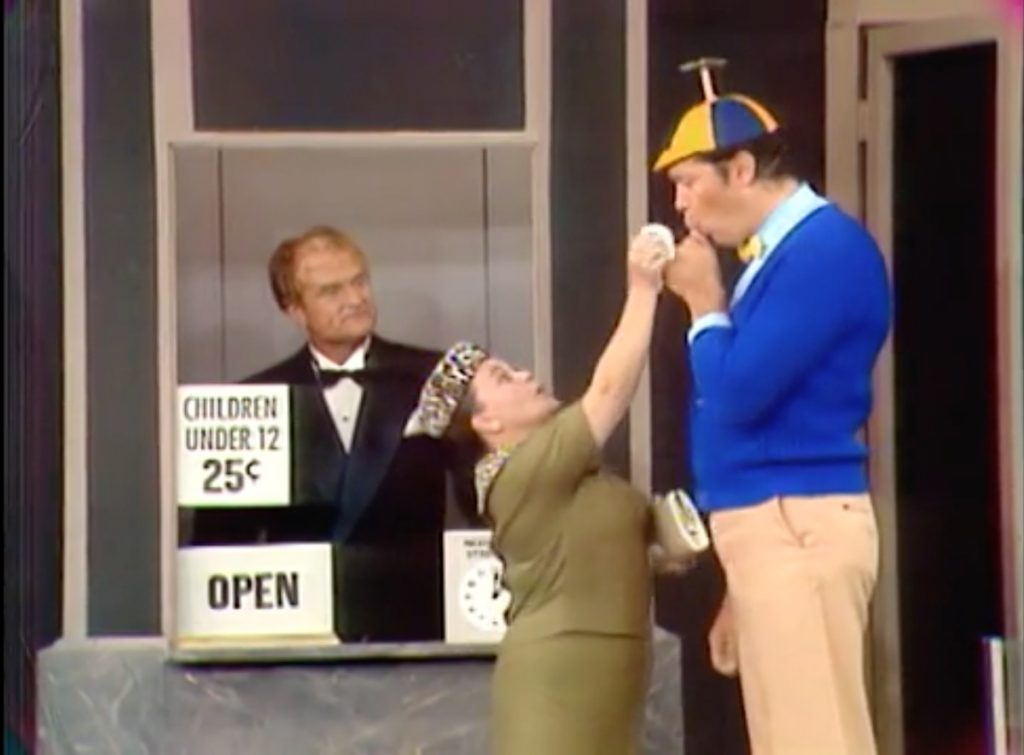 Trivia
Kathy Gale was plucked from the Tom Hansen Dancers to replace an ill Joey Heatherton with just 24 hours to prepare. She was featured in a six-minute song-and-dance routine, 'Blues in the Night,' and the main comedy sketch.
Cast
Red Skelton … Self – Host / Sheriff Deadeye / Gertrude and Heathcliffe
The Alan Copeland Singers … Themselves
Mel Berger … Poker Player / Fat Man–Silent Spot
Wally Cox (Underdog) … Self / Marvin Manley
Jimmy Cross … Drunk
David Rose and His Orchestra … Themselves
Bob Duggan … Poker Player / Popcorn Customer-Silent Spot
Kathy Gale … Saloon Gal
Art Gilmore … Announcer (voice)
Chanin Hale … Indian Maiden Sitting Pretty, Comedy Blackouts
Ray Kellogg … Bartender / Policeman–Silent Spot
Florence Lake … Old Lady / Drunken Old Lady–Silent Spot
Flip Mark … Sneaky Kid-Silent Spot
Tom Hansen Dancers … Themselves