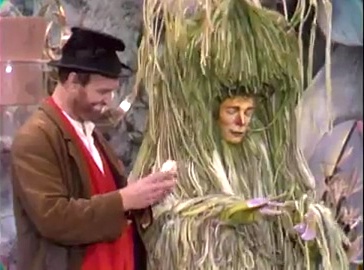 The Bum Who Came in From the Cold – The Red Skelton Show, season 15, with Nancy Wilson – originally aired April 12, 1966
The Bum Who Came in From the Cold is a spoof of the medical series "Ben Casey", with guest star Nancy Wilson as Dr. Cagey, Jack Kruschen as Dr. Shnorba
Monologue | The Bum Who Came in from the Cold | Skelton Scrapbook | On Stage | Silent Spot
Monologue
There was a fellow with a clothing store, with a suit that he couldn't sell for 15 years. He goes out to lunch, orders the new clerk to sell that suit. He returns — the suit's gone, and the salesperson's cut, shredded, and bleeding. Store owner: "What happened?" Salesman: "I sold the suit to a blind man." Owner: "What happened to you?" Salesman: "His seeing eye dog."
Richard Burton as the spy who comes in from the cold. He's tired and exhausted, and the critics say, "That's great acting." He said: Who's acting?
When I was a boy, the only topless thing we saw in the movies was Tarzan.
Last weekend I saw a movie, I couldn't believe my eyes. I went back four times to make sure.
When I was a kid, you know what an atheist was? Someone who didn't believe in Roy Rogers and Trigger!
Driving through Texas – miles of nothing to see. Finally come upon a filling station with the sign: "Don't ask us for information – if we knew anything, we wouldn't be here."
Farmer: Hold onto this bull for me. What? There's nothing to it – just hold onto these horns for a moment. The farmer walks away, yelling back: "Good luck, buddy! Hope you get out of it as easy as I did!"
Gertrude & Heathcliffe: The ship were flying over is the ship of fools. How do you know it's the ship of fools? They're looking up!
The Bum Who Came in From the Cold – Act I
Freddie the Freeloader sleeping on a bench outside a hospital. Sign: Muggers, please mug quietly." Cop "helps" Freddie get an ashcan off his backside. Cop's catching the Asian Flu, lets Freddie go. Freddie interrupts a mugging. "Better to blow your nose into a handkerchief than a gun — even if it is a colt." Every time someone sneezes, Freddie shoots himself in his posterior. Nancy Wilson/Dr. Cagey: "Look, a bum doctor. That is: look, a bum, doctor." Dr. Shnorba tries to take a blood sample. They want to find out why bums are immune to the flu. Dr. Cagey: "We'll put up a statue in your memory." Freddie: I've got a lousy memory.
The Bum Who Came in From the Cold – Act II
Inside the hospital, Freddie does a strip tease (removing hospital gown) for the interns, revealing he's totally dressed. Nancy Wilson/Dr. Cagey: "Doctor, should we check his post nasal — drip?" Dr. Cagey: "What do you live on?" Freddie: "Instant food — the instant somebody drops food, I eat it!" They hook Freddie up to a testing machine, the current makes him dance – and the 2 doctors as well as they touch him. Dr.: "There's been a medical breakthrough!" Freddie: "Some nurse's girdle must have broken!" Giant flu germ coming this way! They chain Freddie while the giant flu bug (Christopher Carey) approaches. He plans to take Freddie away with him …
The Bum Who Came in From the Cold – Act III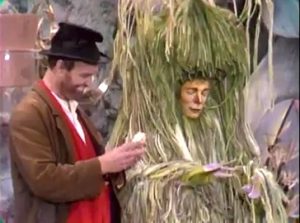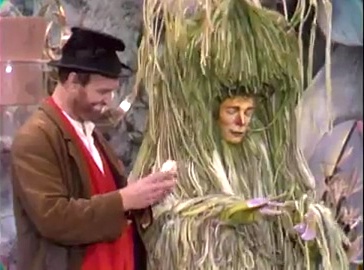 Sign: Gezoont Heights – home of the flu bug. Flu bug has Freddie imprisoned in a bottle, waiting for him to get sick … Which doesn't happen. Freddie: "When I was a baby, I didn't even get diaper rash." Flu bug: "Why not?" Freddie: "We couldn't afford diapers!" Both the flu bug & Freddie feel like the outcasts of society. Freddie: "If it wasn't for you, keeping people sick in bed, who would watch daytime television?" The doctors come in to exterminate the flu bug. Freddie impersonates Lionel Barrymore as a lawyer. Flu bug kisses Freddie in thanks — and gives him the flu! Freddie grabs the cure to spray the bug in retaliation. Flu bug: "You're a skunk!" Freddie: "Since I'm a skunk … let us spray!"
Skelton Scrapbook – The Transcontinental
Red Skelton & Nancy Wilson on Stage
Nancy doing a dramatic scene as a doctor, Red as the patient. Other doctor said Red had water on the knee. She taps him on the knee with a rubber doctor's hammer — water pours out.
Music
Guest Nancy Wilson sings 'Satin Doll' and 'Here's That Rainy Day.'
The Silent Spot
Red Skelton plays his old man character, Pops, trying to be a good Samaritan. Puts an egg back into a nest — which falls and eggs him in the face. Worker carrying heavy stone stops for a rest. Pops tries to help, falls onto the grass, violating the "keep off the grass" sign, gets in trouble with policeman. Man asking for directions thinks that Pops is drunk, walks away. Pops tries to help fat woman get a drink — gets soaked for his efforts. He tries to help her cast a line for fishing — catches the police officer. Gives the police officer a cigar as a peace offering. Accidentally starts a trash fire. Soaks the police officer trying to put it out.
Pops tries to help a young boy fly a kit. The young boy flies away! Gets in trouble with boy, mother, and police officer. Gets back to carrying the heavy weight, interrupts an old woman about to commit suicide. After slapstick, it turns out it was a movie scene — and he's offered a contract! Unfortunately, he accidentally impales the contract — and director — with a pen!
Trivia
The title is a spoof of The Spy Who Came in from the Cold (1965)
Cast of characters