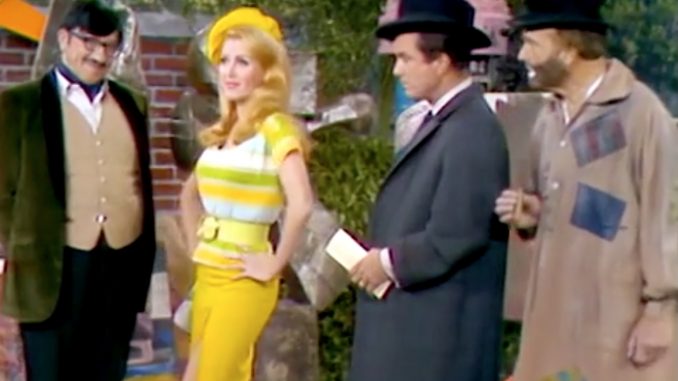 A Bum for All Seasons – Freddie the Freeloader is "discovered" as a pop art sensation by Cliff Robertson, and flown to Paris! But his hobo pals, follow, and …
A Bum for All Seasons – Act I
Freddie the Freeloader and his hobo pals are at the dump, relaxing at their "golf club". Then, they start dancing — but there's no girl! So, Freddie takes a mannequin and starts dancing with "her". During a fight with one of his fellow bums over his dance partner, "she" gets thrown off screen. Only for Arthur Artbuff (Cliff Robertson) to enter, wearing "her"! Freddie helpfully cuts him free, and in exchange Arthur …. is going to throw all the bums out of the city dump! He's buying the land to build an "art" museum.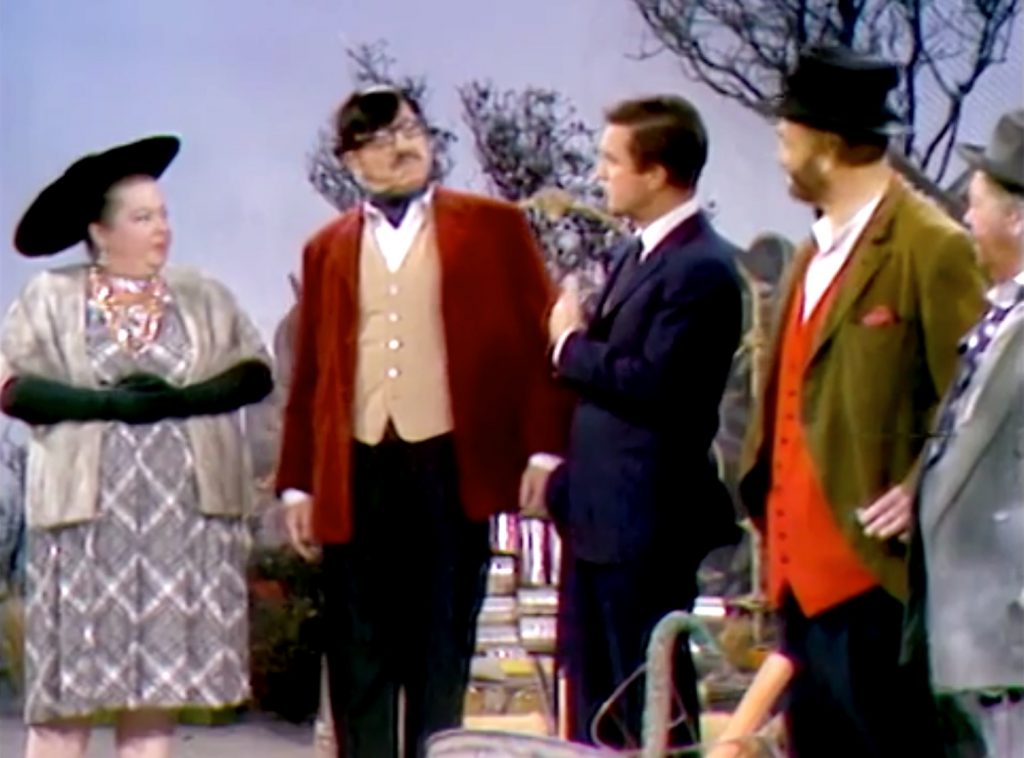 Freddie isn't going to give up without a fight! He starts throwing garbage at Arthur, who's defending himself with a "House for Sale" sign. But wait! Freddie's created pop art! He's the Salvatore Dali of pop art, and Arthur wants to fly him to Paris. As he said to Salvatore, "Hello, Dali".
A Bum for All Seasons – Act II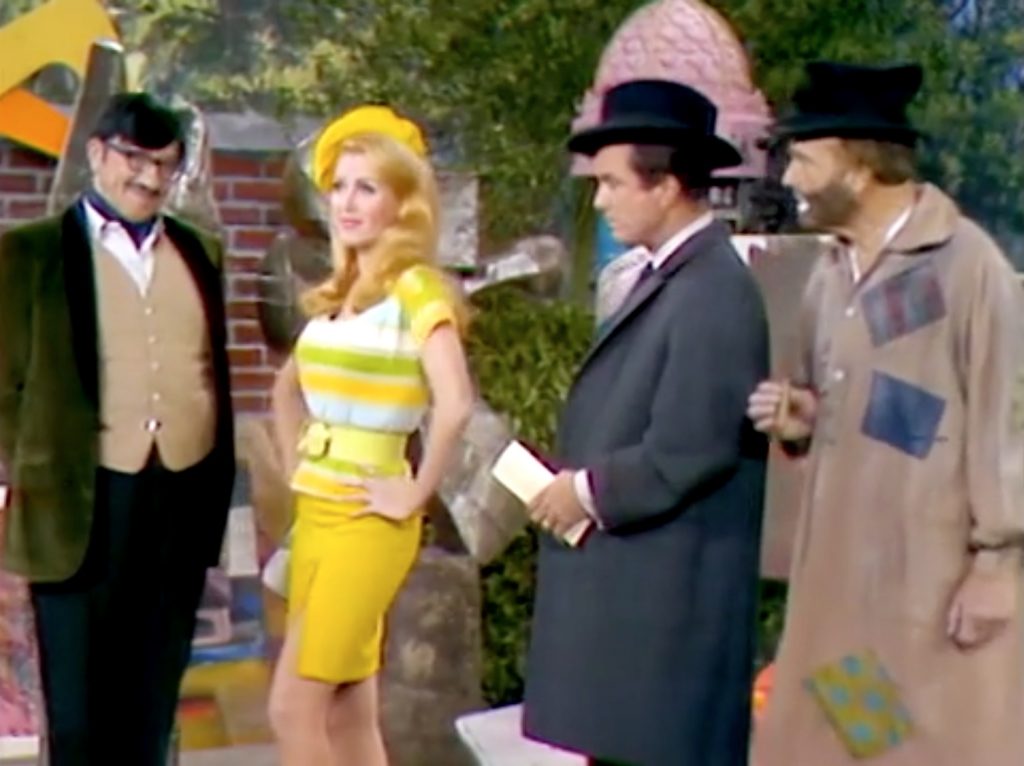 Freddie the Freeloader is flown to Paris, with the snooty art crew. After some jokes ("He's in his 'green' period — still woozy from the plane ride"), he's trying to create "pop" art. He kills a fly with his shoe — it's art! Then a lovely French model comes by to pose. And after flirting with her, Freddie manages to annoy her into leaving. Then it's time for his lunch. Which he smothers in syrup. Art! Time to exhibit it …
A Bum for All Seasons – Act III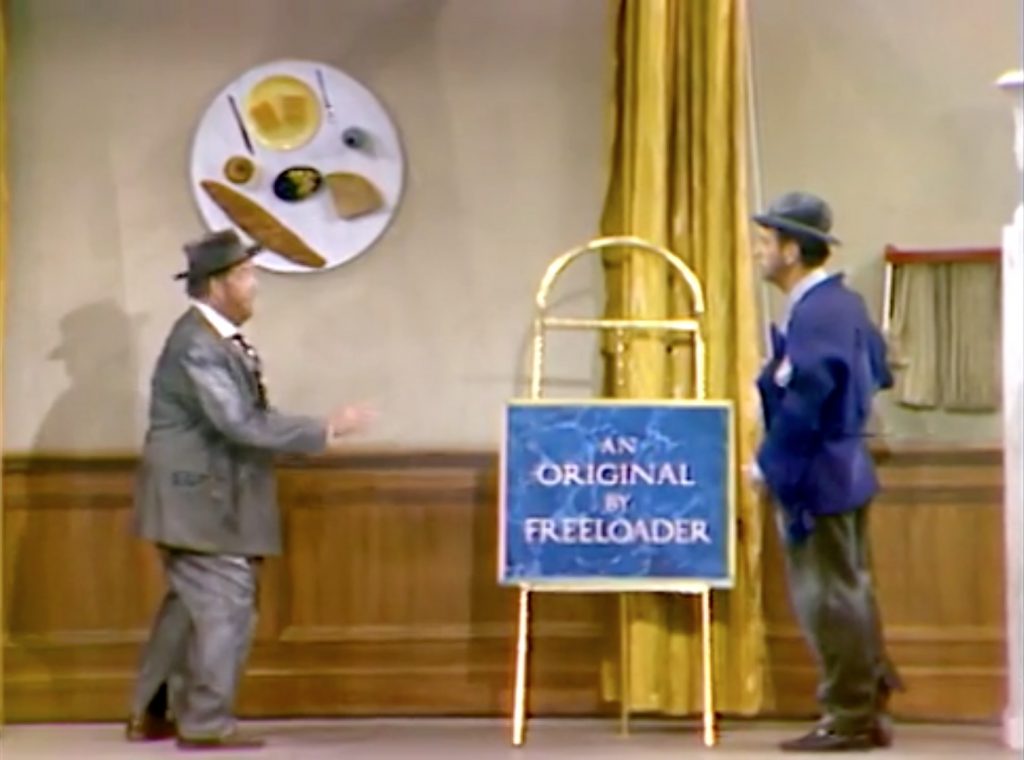 Freddie the Freeloader's hobo pals make it to Paris somehow, and they sneak into the Louvre, where Freddie's having his exhibit. They pull back the curtain and see Freddie's masterpiece — his gooey lunch! Which they think Freddie has left for them as a free lunch! They give new meaning to "eat and run" as they take it and flee when they hear people coming. Freddie and the art critics arrive, and after some insults, Arthur unveils … nothing! Thinking quickly, Arthur starts taking bids on Freddie's impression of …Nothing! Ending the sketch.
Classic Red Skelton Sketch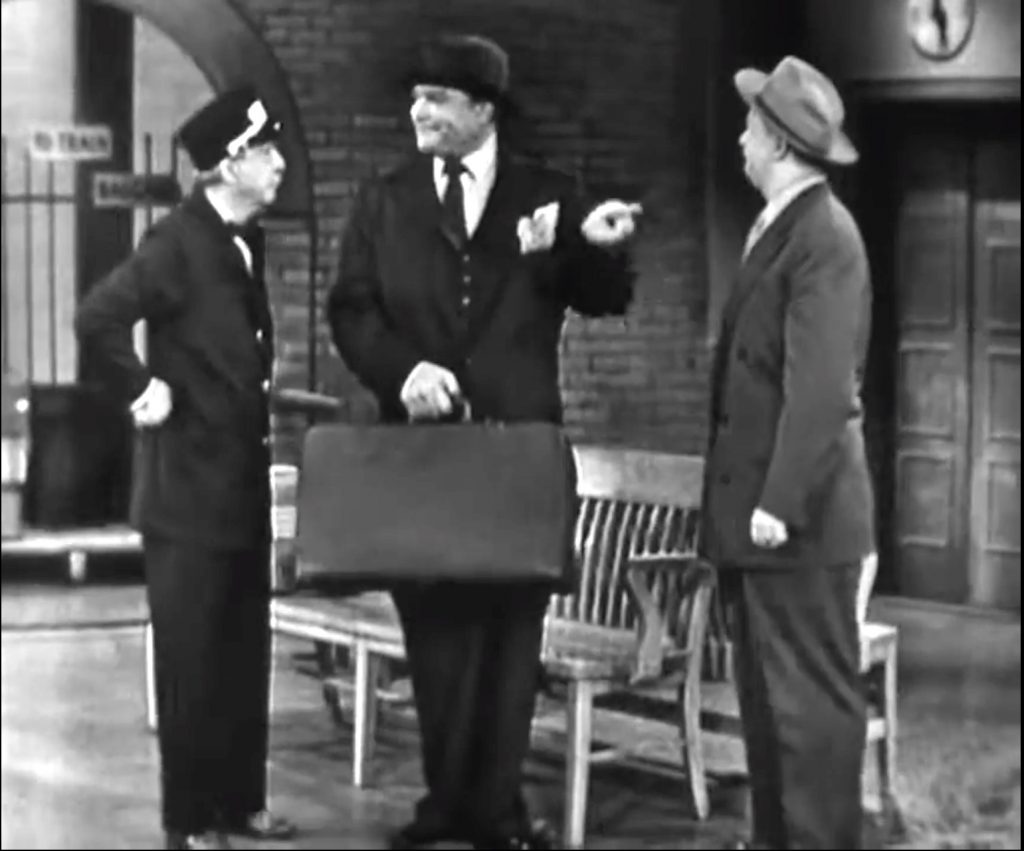 The Railroad Station – an absolutely hilarious sketch from the first season, with Willie Lump Lump and Benny Rubin..
Silent Spot
In the Silent Spot, what happens when an Italian wine making family next door to an American moonshiner?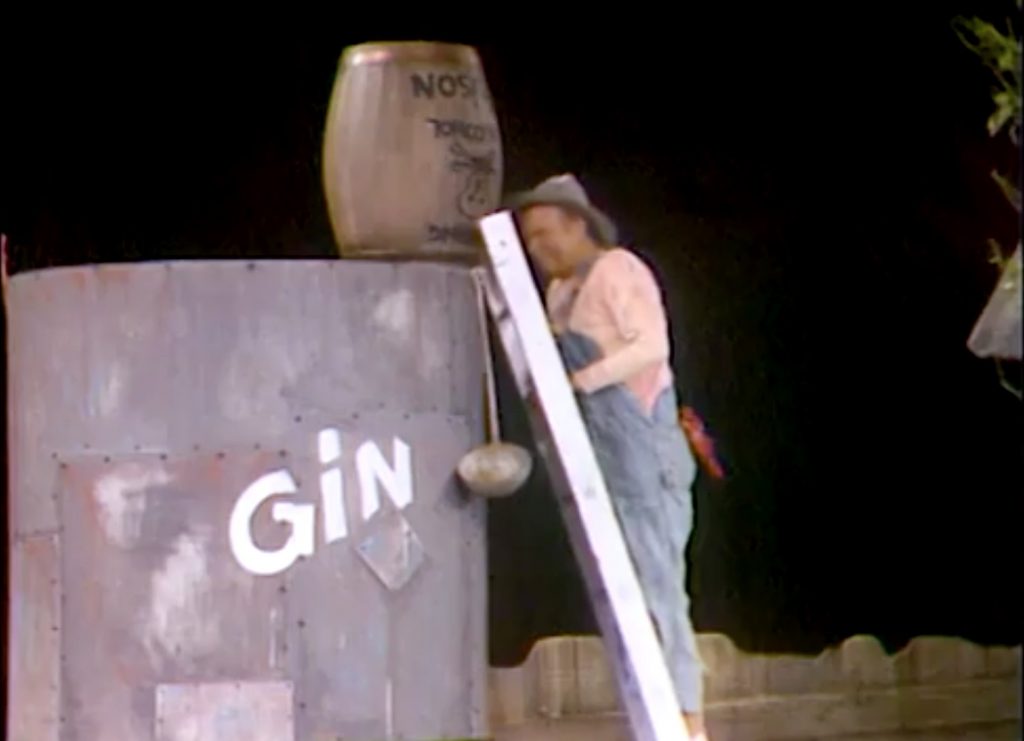 Music
Singing duo Sandler and Young perform 'Sand and Sea' and 'Put on a Happy Face.'
Act I jokes
Mugsy: I can't understand why a guy like you wants to play golf.
Freddy the Freeloader: Well it's easy to explain, Mugsy. If you walk around doing nothing, you're called a bum. But if you got a golf club in your hand … You're a sportsman!
Freddie the Freeloader: [about to swing his "golf club"] Three!
Mugsy: That's four. (fore)
Freddie: If Reagan can cut down on everything, so can I.
Act II Jokes
French Model: But why do you want to paint me? I have nothing to offer! [makes sexy pose]
Freddie the Freeloader: Nothing? How many anything so round be so square?
Cast of characters
Red Skelton … Self – Host / Freddie the Freeloader / Moonshiner-Silent Spot
Victoria Carroll (Kentucky Fried Movie, The Incredible Hulk cartoon) … Model
Henry Corden (The Ten Commandments, The Man Called Flintstones) … Professor Mauve / Winemaker-Silent Spot
David Rose and His Orchestra … Themselves
Tommy Farrell (Kissin' Cousins, The Strip) … Bum
Art Gilmore … Announcer (voice)
Barbara Morrison (Papillon, Project Moonbase) … Countess Pauline Stackhill
Cliff Robertson (Spider-Man, Charly) … Self / Arthur Artbuff
Sandler & Young … Themselves
Hal Smith (The Andy Griffith Show, The Great Race) … Muggsy