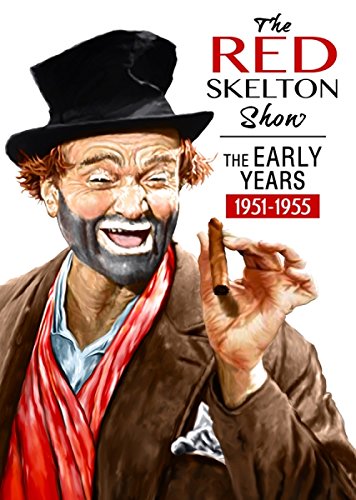 The Red Skelton Show – the early years (1951-1955)

In short, a DVD collection of the very early years of The Red Skelton Show – with a lot of episodes for the money. 10 disks of the show itself, with one additional bonus DVD. The contents are:
The Red Skelton Show: The Early Years 1951-1955 Episode List
10/21/51- Smokeless Sunday
11/04/51- Willie and the Burglar
11/11/51- Café Paree
11/18/51- G.I. McPugg
11/25/51- Clem and Married Life (with special guest Bob Hope)
12/09/51- The Big Trial
12/16/51- Clean Politics
12/23/51- The Skeltons at Home (with special guests Georgia, Valentina, and Richard Skelton)
12/30/51- Learn to Dance in Ten Easy Lessons or One Hard One
DISC 2
01/06/52- The Bouncer (with special guest Milton Berle)
01/13/52- McPugg The Babysitter (with special guest Nana Gollner)
01/20/52- The Clean Fighter
01/27/52- Rock-A-Bye-Baby
02/10/52- The Transcontinental
02/17/52- The Disc Jockey (with special guest David Rose)
02/24/52- How To Make A Salad
03/02/52- Pasquale's Hotel
03/23/52- How To Eat Corn On The Cob
DISC 3
03/30/52- Willie The Barber
04/06/52- Clem's Travel Club
05/04/52- It Takes All Kinds (Live in San Francisco with Benny Rubin and Kam Tong)
05/11/52- Let's Talk About Mother
05/18/52- Telephone Trouble
05/25/52- The Railroad Station
06/01/52- Tornado Deadeye
06/08/52- Folding Boy
06/15/52- Let's Talk About Father
09/28/52- Willie Comes Home (with special guest Benny Rubin)
10/05/52- Willie Paints A Room
10/12/52- The Stagecoach Robbery
10/26/52- Lt. Muscle
11/02/52- Whistle Stop
11/16/52- Help Wanted (with special guest Billy Barty)
11/19/52- Clem Kadiddlehopper's Graduation
11/23/52- Weepy Talks Turkey
12/07/52- Fancy Footwork (with special guest Charles [Bronson] Buchinsky)
DISC 5
12/14/52- The Sultan
03/22/53- The Ambulance Driver
03/29/53- Quiz Show Winner (with special guest Andy Russell)
04/05/53- The Eyes have It (with special guests Allen & Ashton)
04/19/53- Baby's First Birthday (with special guests Park and Clifford)
05/03/53- Racetrack
05/10/53- Washing The Elephant
05/31/53- Freddie Becomes A Star-Gazer
(Season 3 – CBS)
09/22/53- McPugg's Last Fight
DISC 6
10/13/53- The Nervous Tenor's Audition
10/20/53- The Hobo's Dilemma
10/27/53- Appleby The Dreamer
11/03/53- Freddie's Masquerade
11/10/53- The Marriage Broker
11/17/53- How to be Happily Married
12/01/53- Flugelmeyer's Secret Formula (with special guest Ann Southern)
12/08/53- Dr. Schlepper
12/15/53- It Happened At The Station House
DISC 7
12/22/53- The Skeltons at Christmas (with special guests Georgia, Valentina, and Richard Skelton)
12/29/53- The Great White Hunter (with special guest John Wayne)
01/05/54- Accidents Will Happen (with special guest Jackie Gleason)
01/12/54- Voyage To Paris
01/19/54- What Fathers Should Know
01/26/54-Clem the Campus Soda Jerk
02/02/54- The Train Trip
02/09/54- Deadeye at The Golden Nugget (with special guests Ed Sullivan)
02/16/54- Captain Hook
DISC 8
02/23/54- Cave-Man Marriage
03/09/54- Uncle Sam Wants You
03/16/54- Sherlock Holmes (with special guest Melville Cooper)
03/30/54- King Putt (with special guest Sheree North)
04/20/54- Clem in the South Pacific
05/04/54- The Referee
05/11/54- Prince Valiant (with special guest Johnny Carson)
05/18/54- The Artist's Dilemma (with special guest Tom Harmon)
05/25/54- Clem Goes to Mexico (with special guest Lola Montes)
DISC 9
06/01/54- Mississippi Showboat
06/08/54- Freddie Goes To The Cleaners
06/15/54- Dial 'B' For Brush (with special guests Bela Lugosi, Lon Chaney, Jr. and Vampira)
09/21/54- Clem the Rookie (with special guests Leo Durocher, Diahann Carroll)
10/05/54- What Goes Down, Must Come Up (with special guest Ella Logan)
10/19/54- Romeo and Juliet (with special guest Anna Maria Alberghetti)
10/26/54- The Andrews Sisters (with special guest Laverne and Maxine Andrews)
11/09/54- Clem Goes To College
11/23/54- A USO Thanksgiving (with special guests Dean Martin and Jerry Lewis)
DISC 10
11/30/54- Chicago Red in Las Vegas (with special guest Lillian Roth)
12/07/54- The Art Show (with special guests Abbe Lane and Sig Arno)
12/21/54- The Unwanted Christmas Tree (with special guest Georgia, Valentina, and Richard Skelton)
01/04/55- Skelton Clears The Smog (with special guest George Raft)
01/11/55- Skelton Goes Back To School (with special guest Diana Lynn)
01/18/55- The Honeymooners Spoof (with special guest Peter Lorre)
01/25/55- Love Thy Neighbor (with special guest Mary McCarty)
02/01/55- Queen of Mars (with special guest Ruth Roman)
02/08/55- Red Goes To Barber College (with special guest Charles Coburn)
Disc 11 – Bonus Features:
America's Clown: An Intimate Biography of Red Skelton – A special look at the life and career of one of the most popular comedians of his time
Dress Rehearsal and Special Bonus Episode: Deadeye From Mars – This practice performance presents a freewheeling and uproarious insider's look at Red's rehearsal process on a classic episode, followed by the final broadcast version.
Bonus Episode: The Look Magazine Movie Awards – In this rare and atypical installment of The Red Skelton Show, Red hosts an award show honoring several of Hollywood's all-time greats. Walt Disney, Judy Garland, and Bing Crosby are just some of the legends on display in this unique episode.